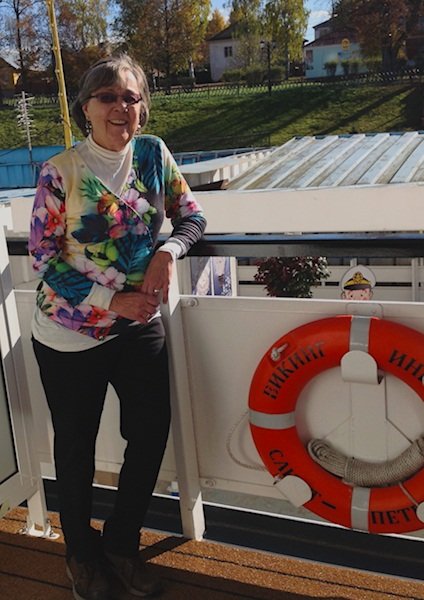 Share Your Memory of
Sandra


Obituary of Sandra K DuBois
Sandra K. (Strickfaden) DuBois
Age 77, of Forest Lake and formerly of White Bear Lake, MN died on Sunday, April 14, 2019. Preceded in death by husbands Joe Gaertner, Robert Rudman (father of children) and Dennis DuBois and parents Paul Laws Strickfaden and Verna "Velma" Stair. Survived by children Rebecca Rudman (Ken Drouillard) and Barry Rudman (Donara); grandchildren Abby Reisner (Steve Kenny), Trevor Reisner (Jamie Porter), Quincy Kozel (Wilson) and Jack Rudman; and great grandchildren Jacobe and Zoey Reisner.
Sandy had an adventurous spirit. She travelled to more than 35 countries and many U.S. states including North and South America, Europe, Australia and Asia. Her travelling companions included family and close friends--building a lifetime of memories, close relationships and appreciation for how other people live. Of all her travels, those she shared with her grandchildren were most special.
Sandy's sense of adventure began early in life. Her father's career as a principal and then superintendent moved the family to many small towns in Iowa. Sandy shared many stories about growing up as "the new girl" at school. She made friends readily and always kept her belongings organized as easily packed. One of Sandy's moving chores as a girl was packing the family dishes; no dishes were ever broken thanks to her careful attention to detail. Sandy's mother, a former school teacher, taught Sandy to read at an early age developing a love of reading she would later share with her own children. Raised by parents who lived through the Great Depression, Sandy also learned many thrifty habits which developed into lifelong hobbies including sewing her own clothes, gardening and cooking. She shared her love of sewing with Becky, Abby and Quincy; her love of gardening with Barry and Trevor; and her love of cooking with Quincy and Jack.
Sandy was intelligent, hardworking and valued education. She was a National Merit Scholar who started out as a Home Economics Major and worked in the college dormitory. She has said she wasn't sure whether it was her love of counting the dorm laundromat coins or wanting to blaze a new trail that caused her to change her major to business after freshman year. She graduated in 1963 with Distinction and earned Bachelor's of Business Administration with a double major in Accounting and Office Administration. She was the only woman majoring in accounting in her graduating class.
Soon after Sandy married her high school sweetheart, Bob Rudman, and worked to support him while he finished his engineering degree. He later told their children that their mom not only supported him financially at that time, she was an excellent term paper editor. Sandy followed Bob to Minnesota where she worked in accounting until they had their first child. Sandy did not work outside the home until her second child started kindergarten. As a dedicated "Stay at Home Mom", Sandy and her children were always following an adventure. Sandy was a pioneer and advocate for natural childbirth and breastfeeding. She was very active in LaLeche League International by proving support other women and serving as the Tri State Treasurer. Both while outside the workforce and during her professional career, Sandy lead an active, creative life. She gardened, canned fruits and vegetables, sewed all kinds of clothing and quilted. Although she called herself "an experienced beginner quilter," she wasn't afraid to tackle complex projects and is one of the few quilters who completed all her "UFO's" (that's quilter jargon for unfinished projects). She water skied, swam, enjoyed yoga, biked and camped. Many of her later walks involved hunting for golf balls with Quincy and Jack. She termed that her "cottage industry" when she, Quincy and Jack decided to sell them. She also volunteered for her children's school and other organizations, loved cards, board games, Scrabble and cribbage. She loved playing board games with her grandchildren. However, she refused to play any game with money unless she could be the banker.
Sandy had a distinguished career as an accountant, working first in private industry and then with 24 years of public service to Ramsey County as an accountant prior to retirement. After retirement she continued that public service by returning to assist colleagues with special task forces requiring her keen analytical mind and integrity. She kept trying to retire, however having the respect of senior civil servants meant she kept getting invited to work on projects.
While Sandy is probably best known for her keen sense of witty humor, intelligence and as she called it "liking to shake things up a little to keep things interesting," she was also a person with tremendous compassion and generosity. She wasn't one to ever brag about or even talk about that side of herself. She showed care and compassion for her family, friends and even coworkers. She made many, many baby quilts and was known for the quilts she made as high school graduation gifts for grandchildren. Sandy's longtime friends and family, throughout her lifetime, brought Sandy joy, comfort and laughter. She has done the same in their lives.
Sandy spent the last year of her life living at Ecumen Long Term Care, she maintained her lively spirit and sense of adventure until the end of her life. Despite continuing to "shake things up a little," she was well loved and cared for by staff and loved by residents and she loved and cared for them. Special thanks to the many Ecumen and Hospice staff that helped Sandy to enjoy her life and have meaning in it through the last months.
Although Sandy attended many funerals and memorial services, it was her desire that she not have one of her own. Now that she is no longer held back by chronic illness, her soul is with God. She requested that her body be cremated and made into a gemstone which will travel the world as a symbol of her love of adventure, travel and to "keep things interesting."