HAS A DEATH OCCURRED? WE ARE AVAILABLE 24/7
CALL Minneapolis ​(612) 200-2777 or duluth (​218) 208-0377
​​
Call Us
HAS A DEATH OCCURRED? WE ARE AVAILABLE 24/7
CALL Minneapolis ​(612) 200-2777 or duluth (​218) 208-0377
​​
Call Us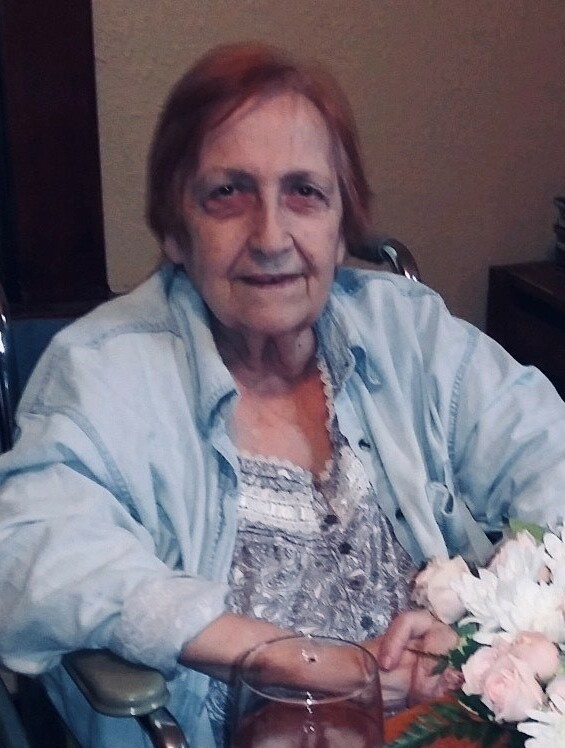 Obituary of Twyla "Johnnie" Crandall
Twyla "Johnnie" Jean (Hejl) Crandall
Our beloved: Mother, Grandma, Great Grandma, and Friend
Twyla Jean Crandall, 84, unexpectedly passed away at Regions Hospital in Saint Paul, Minnesota on November 6, 2023, at 11:30 pm, after collapsing at home early Sunday of a heart attack.
Twyla was the 4th child of 8 born to Arthur Edward Hejl and Margaret Ann (Ricketts) Hejl on January 2nd, 1939, at their farm home in Wheatland, North Dakota.
According to Twyla, her birth is when her father gave her the nickname "Johnnie", story told is that the doctor initially mis-gendered her by announcing: "It's a boy!" And if she was a boy this would have been his name. After the doctor realized his mistake, she was given the name Twyla, but preferred to be addressed as Johnnie.
Although, born in Wheatland, ND, her father purchased their permanent farm in Amenia, ND, where he farmed in the field growing beets. Her father bred and trained horses, and would house horses in need of a home, often rehabilitating sick and injured. Twyla and her siblings helped him when needed and this is why their entire family has a fondness for horses… Twyla's favorite animal!
Twyla attended school until the 8th grade, when she had no choice but to stay home to help her father and younger siblings because her mother Margaret took ill and the children who still lived at home needed to help their father keep their family afloat.
At age 18, Twyla conceived her first child out of wedlock, due to this fact, her parents decided to place her in a 'Unwedded Mother's Home'. Most think this is a punishment, but back then it was to help their daughter learn how to care for an infant without the help of the father. Nine months later she gave birth to a baby boy Danny Lee in November 1957.
About 8-9 years after giving birth to her son, she met Everett Rodger Crandall from Park Rapids, MN; when her father hired him and his younger brother Dano to be farm hands. After some dating, they married on August 16, 1966, by the Justice of The Peace in Moorhead, Minnesota. The story goes: Her mother was not happy with them marrying in Minnesota because she wanted to announce the marriage of her daughter in her favorite North Dakota newspaper. She never really knew why this was so important to her mother, but it was. However, Minnesota did not require a blood test before marriage… no blood draws, Twyla was very much in favor of not having to complete one!
They lived in a rented house in Fargo, ND and while there they conceived Kathryn Ann in September 1967 and Kelly Lynn September 1968 (born a month early), later they relocated to Minneapolis, Minnesota. Being not a city man, Everett moved the family to a small town called Castle Rock. While living there they had another daughter Susan Jeanette November 1970. A few years later they moved again to Cannon Falls, MN. A year or so later, Amy Iola was born July 1973 and trying for that 'boy' they wished for after 4 girls, Douglas Wesley arrived June 1974. Twyla was a stay-at-home mom taking great care of her children and home, while Everett earned a living for their family. Unfortunately, the marriage ended after 22 years of marriage. They remained friends for the sake of their children.
During the separation, Twyla relocated to Saint Paul, MN and not long after met Patrick E. Watters (Daddy-O) who had remained with her since they met at that party given by her neighbors, who happened to be the brother of Pat. They met and fell in love the summer of 1986 and have been together for 37 years upon her passing.
Once Twyla's children grew up with spare time on her hands, she enjoyed being grandma and at times would babysit them. She enjoyed going to the county and state fairs, which sometimes she'd attend the rodeo… just to see the horses! She was a huge fan of Elvis and enjoyed listening to his music and watching his movies, as well as collecting many Elvis memorabilia. She was a collector (various breeds) of horse statues and always referred to them as her herd due to having that many! Twyla loved to give gifts…even for no reason other than she loved you. Her favorite pet that was given to her by her oldest son Danny was a blonde Pomeranian named Angel who fiercely protected her if she felt her mom was threatened. Twyla really enjoyed the holiday seasons, especially Thanksgiving, because it was her oldest son's favorite time of the year… he loved his Mama's turkey and homemade sage stuffing! Twyla was the neighborhood "Mom" because she usually had fresh baked "something" to offer. Twyla took after her mother-in-law and read her romance novels, especially Louis L'Mour because they were "saucier" than the others and western based. Twyla enjoyed watching her daily soaps: Young & the Restless and All My Children were her favorites, which she watched faithfully daily. She enjoyed crocheting, some fishing, adult coloring, and embroidery and she loved a nice ride on a pontoon, which was her favorite style boat…she absolutely wouldn't ride in any other style because they rocked too much. Twyla had many other interests in life, but those listed are her favorites.
Twyla was survived by her children: daughter's Kathryn (Dana Davis) Crandall of Oakdale, MN; Kelly (Joe Richardson) Crandall (Woodbury, MN; Susan, of Saint Paul, MN; Amy, of Stillwater, MN and son Douglas, of Saint Paul, MN. Grandchildren: Shannon Walker, of North Field, MN, Danny Hejl Jr of Minneapolis, MN; Shane Hejl of Minneapolis, MN; Amanda Hejl of Indiana, Danielle Herzberg of Oakdale, MN; Aran (Coco) Anderson of Saint Paul, MN; Robert (Alicia) Strunk of Cannon Falls, MN; Kira (Jeremiah Valentino) of Maplewood, MN; Jacob (Jessica)) Strunk of Woodbury, MN; Isabelle (Izzy) Crandall-Richardson of Woodbury, MN; Christian Crandall of Oakdale, MN; Arthur Crandall of Oakdale, MN; Kara Tribitt of Farmington, MN; Kyle Tribitt of Farmington, MN; Ashely Mussehl of Chanhassen, MN; Rodger Crandall of Apple Valley, MN; and MANY Great grandchildren, all of whom Twyla cherished dearly.
Twyla preceded in death by parents, Arthur E. and Margaret Hejl of North Dakota, stepmom Ella Hejl of ND, Sister's Violet Grenell of Oregon, Margaret Nantt of West Fargo, ND, brother's William (Bill) Hejl of Amenia, ND, Russell Hejl of Florida, Ricky Hejl of Saint Paul, MN. Two children: Baby Girl Crandall (accident-causing miscarriage shortly after marriage) and Danny Hejl of Saint Paul, MN. Granddaughter: Jeanette Crandall of Saint Paul, MN
Due to the sudden and unexpected passing of Twyla, her children and loved ones are asking for patience as they make plans for the memorial, we will keep family and friends posted of when this will take place. We appreciate your understanding with this very difficult time.
Thank you & much love,
Kathryn, Kelly, Susan, Amy, and Pat
A Memorial Tree was planted for Twyla "Johnnie"
We are deeply sorry for your loss ~ the staff at Cremation Society Of Minnesota | St. Paul


Share Your Memory of
Twyla "Johnnie"