HAS A DEATH OCCURRED? WE ARE AVAILABLE 24/7
CALL Minneapolis ​(612) 200-2777 or duluth (​218) 208-0377
​​
Call Us
HAS A DEATH OCCURRED? WE ARE AVAILABLE 24/7
CALL Minneapolis ​(612) 200-2777 or duluth (​218) 208-0377
​​
Call Us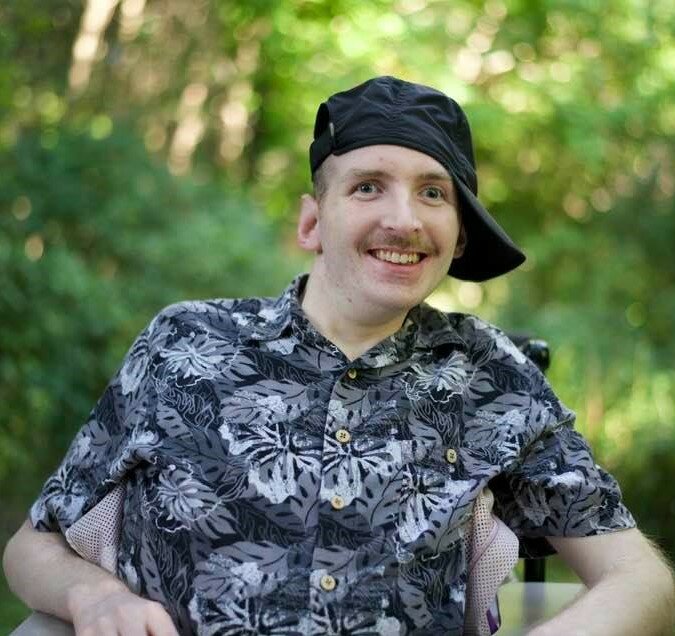 Share Your Memory of
Adam


Obituary of Adam Patrick Johnson
JOHNSON
Adam P.
Age 36 of St. Paul
After a long and courageous battle with Pelizaeus-Merzbacher Disease, Adam passed away surrounded by his loving family on August 1, 2022.
Proceeded in death by Grandparents: Donald and Marilyn Johnson, Raymond and Louise Behrenbrinker and his Uncle Don Behrenbrinker. He is survived by his parents: Bruce Johnson, Joan Johnson. His beloved sisters; Christy Oneill, Laura Johnson (Andy), Carla Johnson. Nephews/Niece; Parker Oneill, Carter Johnson, Hudson Berg, Kaleb Johnson, & Marilyn Johnson.
Celebration of life to be announced. www.cremationsocietyofmn.com
Adam was the fourth child born into his family, after having three girls, his parents were over the moon. When he was very young he had a routine check-up, and they quickly realized something was not right. Adam was eventually diagnosed with Pelizaeus-Merzbacher Disease, and given a life expectancy of sixteen years. PMD is a rare disorder, affecting roughly 1 in 100K. Even though his prognosis seemed
devastating, his family was not going to let that affect his quality of life.
As Adam got older he fell in love with sports. His first love was for the MN Twins, more specifically, Kirby Puckett. When Adam got the chance to do the Make-A-Wish program, his wish was to meet Kirby himself. But with the tough decision of only getting one wish, he decided it should be to go to Disney World. For his whole childhood he had been infatuated with every Disney movie made and his favorite was Winnie the Pooh. After his family returned from the most magical vacation, his second wish came true. He got to meet Kirby Puckett and it was truly the best night of his life.
When Adam was in High School he got the chance to play adaptive sports like floor hockey, soccer and softball. In addition to his love of playing sports, he was able to make lifelong friends as well. No one could resist his joking nature and infectious laugh .Growing up Adam's family went camping as much as they could, and it became one of his favorite things to do. And when Adam was old enough, he started spending a week every summer going to Camp Courage.
As Adam entered adulthood, he enjoyed attending the PAI day program. This is where he learned work skills and of course, made many friends.
Adam had a zest for life and loved so many things. In fact, the list is so long it would be impossible to name them all, so here are just a few:
Adam loved food, eating it of course! (especially if it's exploding and full of parsnips.)
Adam loved to cheer on his Dad, sister, aunt and uncle in many triathlons and 5K's. He even got to participate in a couple. And he adored watching his nephew's competition dance recital every year. Adam loved Harley Davidsons, and going very, very fast. Adam was an avid Vikings fan and loved watching football games with his Dad. Adam loved going to the casino with his Mom, always hoping to hit the jackpot. Adam LOVED the MN State Fair. Mostly because it included quite a few things he loved all in one place; eating, playing games and pretty gals.
Throughout his life he stayed steadfast and brave in the face of everything that told him to be afraid and powerless. He wasn't going to sit back and watch his life pass him by, he was going to live life without angst or bitterness. He was going to squeeze as many memories, laughs, stories, jokes, and love into his soul that God would allow, before being called home.
Adam was a son, a brother, an uncle and a friend. He was the light at the end of the tunnel, a ray of sunshine at the end of a storm. He was unwavering in his strength and a fighter all the way to the end.
Adam touched so many lives, sometimes with only a smile. His family hopes you cherish your memories of Adam. Think of him fondly, and think of him often.
A Memorial Tree was planted for Adam
We are deeply sorry for your loss ~ the staff at Cremation Society of Minnesota