HAS A DEATH OCCURRED? WE ARE AVAILABLE 24/7
CALL Minneapolis ​(612) 200-2777 or duluth (​218) 208-0377
​​
Call Us
HAS A DEATH OCCURRED? WE ARE AVAILABLE 24/7
CALL Minneapolis ​(612) 200-2777 or duluth (​218) 208-0377
​​
Call Us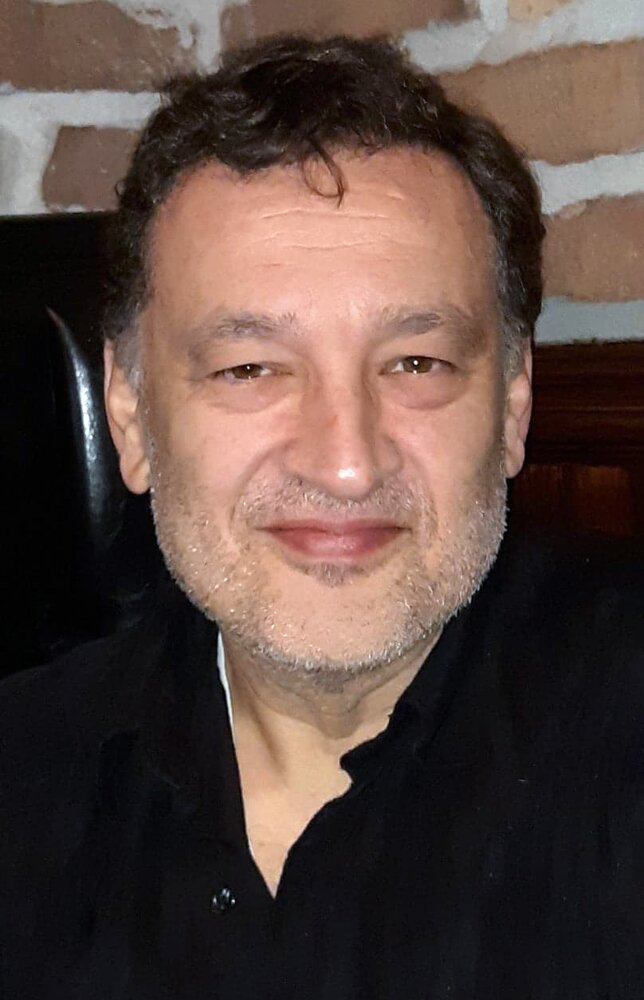 Obituary of Alexander H. Bauert
Alexander Bauert, 56 of West. St. Paul, MN died from pancreatic cancer on July 23, 2022 while surrounded by family.
Alex was born to Hermann and Angela (Berroterán) Bauert on October 8, 1965 in Milan, Italy. Alex was very proud of his Venezuelan, Swiss and Italian heritage. After growing up in many different countries, Alex moved to Minnesota with his parents and sister. He graduated from Henry Sibley High School (NKA Two Rivers High School) before attending the University of Minnesota and Hamline Universities.

Alex is survived by his wife of 35 years, Janine; children Ariana (Brandon Avenson), Ethan and Devin; parents, Hermann and Angela; sister, Johanna. Also survived by an abundance of beloved members of both his and Janine's families along with many dear friends. Preceded in death by grandparents, Hans & Alma Bauert and Luis & Antonia Berroterán

A few years after marrying Janine in 1987, Alex began a temp job translating legal documents and entering them onto computer in the early 90s. His employer noticed his interest and technical aptitude with computers and hired him into the IT department. This began a career he loved that led him through many facets of the IT field and into Security Architecture. In addition to his career, Alex became involved with the Open Web Application Security Project (OWASP), serving as the President of the Minnesota Chapter for many years and assisting in planning and speaking at AppSec conferences in both North and South America. Some of his favorite software security presentations though were in high school and Tech College classrooms – sometimes to the chagrin of his children who were in some of those high school classrooms listening to Dad tell them AGAIN to stay safe online. Alex loved when he saw students become engaged and interested in the security industry. This desire to inspire people also came through when he mentored younger employees at several jobs through the years. This love of computers also translated into video gaming. Alex enjoyed many hours playing online and becoming friends with a great group of people from all over the world.

Alex's other passion was soccer. He had many favorite teams from all over the world: Bayern Munich, Juventus, the Italian and Swiss national teams and the US Women's team. He became a fan of the Minnesota United when they were playing in Blaine as part of the NASL. He was proud to be an Itasca Society Member, being one of the first season ticket holders as the Loons moved into the MLS. If you happen to be at Allianz field in St. Paul, see if you can find his family name on the U in the giant United statue out front. Alex had also already bought tickets and was looking forward to supporting the Minnesota Aurora, Minnesota's new National Women's Soccer League team. By far though, Alex's favorite teams were the ones he coached. Beginning when Ari and Ethan were playing in the local rec league and moving on to coach all 3 of his kids and countless others on travelling teams for both the Sting and Heat Soccer Clubs and finally at Two Rivers High School. Alex loved coaching. He coached everything from U12 through U18 and he coached both boys' and girls' teams. He didn't care if you were the team 'star' or someone that wasn't used to getting a lot of play time, his goal was to make you a better player and a better teammate. He loved seeing players learning to trust each other, beginning to mesh as a team and seeing a player build confidence on the field.

Alex enjoyed travelling very much. Whether it was a flight to Zurich or Miami to see his family, getting to sight see in Thailand, India or Australia on business trips or pulling a camper to the north shore for the weekend, Alex was up for it. When the kids were little, the family took yearly driving vacations to Maine or Seattle or Georgia. While those fell away when life got busier, it was something Alex and Janine rediscovered on their own over the last few years when the kids were grown and in college or on their own. A pre-pandemic 30th anniversary trip to Alaska felt like a chance to practice being a couple again and proved that they could still talk in a car for hours on end and still want to talk some more. The experience was repeated with a trip to Glacier National Park when things began opening up again as the pandemic eased some.

Most of all, Alex loved his family and friends. He spoke with his parents weekly even if they couldn't be together. He considered Johanna his first and constant friend through many moves in childhood and physical distance as adults. While he teased her like a typical big brother, he was also very proud of her. He was a devoted husband and father. His love for and pride in Ariana, Ethan, Devin and son-in-law, Brandon was immeasurable. Alex adopted Janine's parents and siblings as his own and was there for them whether that meant fixing computers or supporting them through difficult periods of life. His nephew (Nik) and nieces (Courtney, Latia, Aisha, Lucy and Lexi) meant the world to him. Additionally, Sarah & Jim, Vicki & Steve and Tim were some of his closest friends and he loved them like family.

A celebration of life will be held for Alex on August 4th at St. Anne's at 2035 Charlton Rd, West St Paul, MN 55118. Visitation begins at 2:00 and the service begins at 3:00. A reception will follow. Please note the memorial will be casual. Alex would be happy to see the people he cared about in T-shirts from DefCon and OWASP and United and Warrior and the like and while hearing stories and memories being shared.

In lieu of flowers, please consider donating for the soccer scholarship fund Alex's family will be establishing for Two Rivers High School students (Venmo @AlexBauertScholarshipFund).
Visitation
2:00 pm - 3:00 pm
Thursday, August 4, 2022
Church of Saint Anne
2035 Charlton Road
West St. Paul, Minnesota, United States
Celebration of Life
3:00 pm - 4:00 pm
Thursday, August 4, 2022
Church of Saint Anne
2035 Charlton Road
West St. Paul, Minnesota, United States


Share Your Memory of
Alexander