HAS A DEATH OCCURRED? WE ARE AVAILABLE 24/7
CALL Minneapolis ​(612) 200-2777 or duluth (​218) 208-0377
​​
Call Us
HAS A DEATH OCCURRED? WE ARE AVAILABLE 24/7
CALL Minneapolis ​(612) 200-2777 or duluth (​218) 208-0377
​​
Call Us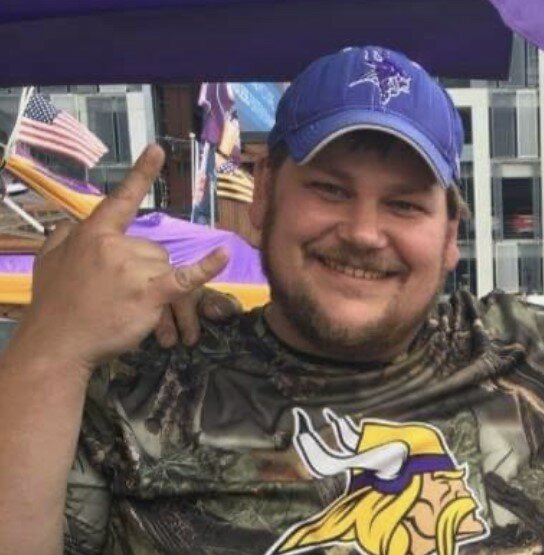 Share Your Memory of
Adam


Obituary of Adam Matthew Madsen
Adam Matthew Madsen
Born September 26, 1984 in Paynesville MN
Adam was shockingly taken from us in a tragic vehicle accident in Champlin MN, July 21, 2022 at the age of 37.
Adam lived near Nest Lake in Spicer, MN until he was 4 years of age. His next-door neighbor created his childhood nickname Zimby. He moved with his family in 1988 to Coon Rapids MN for a short period then to Ramsey MN while he was still 4 years of age. Adam attended school at Ramsey Elementary, Sandberg Middle School and Anoka High School graduating in the class of 2003. Adam's close friends in High School called him "Girth" which continued to be his screen name to the present. Adam went to Anoka Ramsey Community College and had an accounting degree from Anoka Technical College. Adam lived at multiple locations in the Anoka and Dayton area before residing at his present address on Ferry Street in Anoka which he and Jenny purchased in 2009.
Adam was a pizza connoisseur and was employed by several pizza parlors in the area during high school and later during his post High School education, including Anoka and Ramsey Dominos, Mama DeLuca's in Nowthen MN, and managing Mama Valenti's in Andover. Adam's love for making top quality pizza kept regular customers coming back even though they had to pay extra for the best pizza in the area.
Adam changed careers and was employed by the Target Corporation for several years before challenging himself to a new career at Delta Airlines 2 ½ years ago. Adam was revered by his colleagues at Delta, had been promoted to Supervisor and was excited with the idea of maintaining a fulfilling career.
Adam met Jenny Mielke through mutual friends where a long-term loving relationship developed. Adam and Jenny were a great match, they complimented each other perfectly as a couple. She was the Ying to his Yang. Their favorite activity was attending Viking Games and going to several casinos and concert venues. Adam and Jenny made several trips to Las Vegas which was their favorite destination. Adam loved animals and had a favorite cat named Sookie. Adam enjoyed many activities, FOOTBALL, reading, hunting, 4-wheeling and playing videos games with his sons. Adam was a football defense coordinator at heart and
anybody within ear shot of him during the game would hear how the next play was developing on the field. Adam could make someone with no interest in football love to watch the game with him. Adam loved the Vikings and was able to recall nearly any past players and the games they played. Adam was very well read, he knew enough about any subject to carry on an intelligent conversation on any subject be it science, religion, politics, current or historical events. He had a very acceptable demeaner and was able to be quite persuasive.
Adam and Jenny had twin boys to compliment her two daughters that adopted Adam as their father. Adams boys were extremely fond of their dad, as he mentored them with their daily activities. Their faces would light up when he entered the room. His bonus daughters regarded him as their dad as well. His bonus grandchildren loved seeing him often and he would beam with pride whenever he was with them.
Everyone that knew Adam had a fondness for him and his contagious smile, he will be remembered as a gentle giant and friend.
Adam is survived by his fiancé Jenny Mielke, daughters Corissa and Emma, and sons Adam Jr and Aidan of Anoka, Grandchildren Athena and Fin. Parents Greg and Jodi Madsen of New London MN, brothers Aaron (Karlea) of Ramsey MN and Andrew (Stephanie) in tiny house on wheels. Nieces Tayva and Joryn, Nephews Wesley and Wyatt., maternal Grandmother LaVonne Gronli of Spicer MN, father-in-law Bob (Peggy) Mielke and several uncles, aunts, cousins, and extended family.
Adam was proceeded in death by a sister Amber Madsen, an uncle Mark Hegstrom, an uncle Mike Madsen, cousins Jenna LaJoy Hegstrom and Erin Taylor, and his other grandparents.
There will be a Celebration of Adam's Life at Fountains of Ramsey, 7533 Sunwood Drive NW, Ramsey MN on Thursday, July 28th 4pm-8pm.
In lieu of flowers, gas or grocery gift cards would be welcomed.
Celebration of Life
4:00 pm - 8:00 pm
Thursday, July 28, 2022
Fountains of Ramsey
7533 Sunwood Dr NW
Ramsey, Minnesota, United States