HAS A DEATH OCCURRED? WE ARE AVAILABLE 24/7
CALL Minneapolis ​(612) 200-2777 or duluth (​218) 208-0377
​​
Call Us
HAS A DEATH OCCURRED? WE ARE AVAILABLE 24/7
CALL Minneapolis ​(612) 200-2777 or duluth (​218) 208-0377
​​
Call Us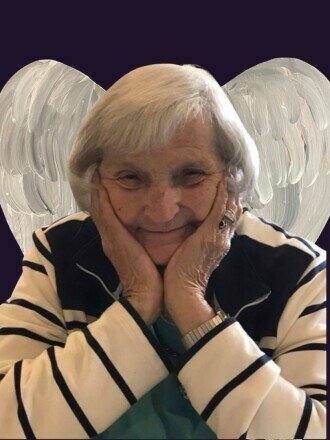 Share Your Memory of
Betty


Obituary of Betty Jane Hastings
Betty was born in Duluth on Aug.15th, 1927 to Hartvig and Agnes Hauge. She died May 5th, 2022 just a few months shy of her 95th birthday. Her goal was 100 and she might have made it, if not for a bad UTI making her a bit unsteady causing her to fall and break her hip.
Betty married Raymond Arthur Hastings on Nov. 23rd, 1945. That just happened to be her oldest brother's 23rd birthday. I'm sure her siblings Abner, Alma, Armond and Richard had a great celebration with them. They were married a few months short of 50 years.
They had two daughters Mary Lucille Lanz & Julaine Adele Netzel and from them came 6 grandchildren, 20 great grandchildren and 6 great, great grandchildren.
Betty had a good life with her family and many, many friends. She grew up in Duluth and in her early years she loved going to her grandmother, Anna Jacobson's farm in Osseo, Wisconsin. She said she felt free there getting to run and play without the worries of city life. She did get in trouble one time for giving a farm cat an enema with a turkey baster. The mess that cat made!
Betty became deaf at two years old. She went to Faribault school for the deaf and for many, many years she taught American Sign Language (ASL) to people in the Duluth and Superior area. She was still teaching ASL to some at Edgewood Vista.
While growing up her dad taught her to build and she was an excellent carpenter. She re-sided her house one summer wearing her short shorts up on a ladder while the neighborhood men sat on their front porches watching her progress. She worked at Northshore Manufacturing till she was about 50. Her and her coworkers tattooed their initials onto their hands in case they ever got decapitated since she loved to drive fast on the hills of Duluth.
She loved to learn about the human body. She enjoyed watching autopsies while she worked at St. Luke's Hospital in housekeeping until she retired in 1990. She got her GED in her 60's; she learned how to navigate Facebook in her 80's which came in handy to FaceTime during the pandemic.
Betty was feisty, very stubborn and liked to do things her way. She was very proud to be 100% Norwegian and didn't believe the 23 & me results that said it wasn't quite 100%. She loved to meet new people, would let you know what she thought whether you wanted to hear it or not. She loved her family very much and enjoyed playing 500 with them. She was proud of her grandchildren and all they accomplished.
She will be missed but we are all thankful to have had her in our lives for as long as we did.
A Memorial Tree was planted for Betty
We are deeply sorry for your loss ~ the staff at Cremation Society Of Minnesota | Duluth