HAS A DEATH OCCURRED? WE ARE AVAILABLE 24/7
CALL Minneapolis ​(612) 200-2777 or duluth (​218) 208-0377
​​
Call Us
HAS A DEATH OCCURRED? WE ARE AVAILABLE 24/7
CALL Minneapolis ​(612) 200-2777 or duluth (​218) 208-0377
​​
Call Us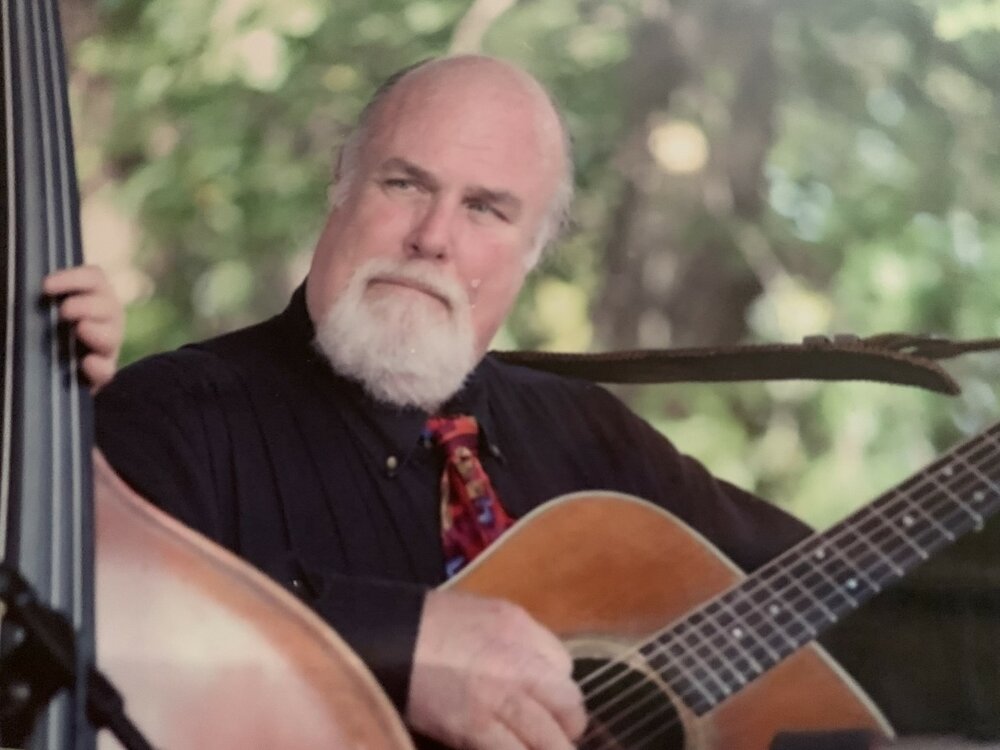 Share Your Memory of
Alan


Obituary of Alan Lyle Jesperson
Alan Lyle Jesperson
.
May 28, 1947 - December 30, 2021
Alan Jesperson - Bluegrass musician, antique radio expert/enthusiast, and perpetual joke-teller - passes away at 74
Alan Lyle Jesperson of Minneapolis, MN passed away unexpectedly at home on Thursday December 30th, 2021.
Alan was born on May 28th, 1947 to Carolyn and Chet Jesperson in Saint Paul, Minnesota. After graduating from Hopkins High School in 1965 Alan attended The University of Minnesota.
Alan is survived by his wife Janine Kemmer, brother Peter (Jennifer) Jesperson, daughter Elise (Richard) Balderrama, nephew Autry Jesperson, cousins Norman (Dee) Berg, Janet Hultgren Range, Richard (Gayle) Hultgren, step children Bill Emery (Kevin Milton), Michael Emery, Susan (Don) Campbell, grandchildren Ryan and Brett Ebhardt, Denise Campbell. Alan also leaves his cat mates Mr. Donut, Moose, and Newbie; and his well played Martin guitar.
Alan ran around his Robbinsdale neighborhood in the 1950s with best friend Scott Benson. They grew up enjoying road rallies, Saabs, movies and laughs as lifetime friends until Scott passed away in 2019.
In 1958 the Jesperson family moved to Plymouth Road in Minnetonka where Alan and his brother Peter enjoyed time with their horses, dogs and cats, playing in the fields and woods around what is now the Ridgedale Mall. A favorite wintertime activity involved Alan running a long rope from horse to toboggan and pulling Peter and friends at breakneck speeds through the snow. Alan took to books by Larry McMurtry that matched his love of humor, complex characters, and the west. As far as movies, one of his all time favorites is McCabe & Mrs. Miller, directed by Robert Altman. Harold & Maude was another one he loved.
As young boys and teenagers the brothers found their love of music, with Alan learning to play guitar while listening to the folk music of the late 50s/early 60s. Peter remembers him playing Dylan's "Don't Think Twice, It's All Right" over and over (and over) again to get the chords, timing and words exactly right. A couple of years later, Peter tried repeatedly to get Alan to learn the riff to The Beatles "Day Tripper" but, alas, it wasn't to be. Alan's early music influences and longtime favorites included John Herald (The Greenbriar Boys), Peter, Paul and Mary, Ian & Sylvia, Doc Watson, Bill Monroe, Merle Haggard and Hot Rize. The first bluegrass records he bought were The Dillards Back Porch Bluegrass, and The Greenbriar Boys.
Alan's love of literature came from his mother, Carolyn, and a strong, intelligent (and occasionally bawdy) sense of humor was inherited from his father, Chet.
Alan met his first wife, Cynthia Bengtson, in high school at Folk Music Club and met another lifelong friend Jerome Flynn at a Doc Watson show in 1964 at The Guthrie Theater. The three formed a folk trio and sang at coffee houses on college campuses.
In 1968 Alan, Ron Colby and Craig (C.J.) Anderson formed the Middle Spunk Creek Boys, a bluegrass band that's been together ever since, with a revolving door of numerous other highly skilled bluegrass musicians. In 2007 the band was inducted into the Minnesota Rock & Country Music Hall of Fame. The Middle Spunk Creek Boys are one of the longest-running bluegrass bands in Minnesota.
Alan drove a truck delivering Happy's Potato Chips from 1968 to the 1980s, which afforded him the opportunity to try out his endless supply of jokes with grocery store colleagues, and to find the best routes to get around the Twin Cities. He listened to music and news on the radio and carried a dictionary in his truck.
Alan's early friends will remember all night picking parties at Alan and Cindy's upper duplex apartment in Dinkytown. Local musicians would play into the night with out of town bands joining the party after playing a local gig.
The Middle Spunk Creek Boys began playing at Dulono's Pizza at Lake and Lyndale in Minneapolis in the early 1970s. Three years later Alan took over booking bands and continued to do so for over 40 years. Alan was involved in the Minnesota Bluegrass & Old Time Music Association, and hosted the Bluegrass & Company radio show on KFAI where he liked to play lesser known songs to give a broader exposure of music.
Alan met Sharon Emery at Dulono's as she frequented the place to listen to the Middle Spunk Creek Boys. They married in 1981 and Alan expanded his family with her three children. With Sharon's encouragement to pursue his love of art deco, neon signs, World's Fair memorabilia, and electronics, Alan quit driving his truck to start Great Northern Antiques, where his love for vintage radios took hold. Alan amassed an extensive collection of radios, regularly driving across the country for radio meets and radio deals; he bought, sold, and shipped radios and parts around the world. In his shop near Lake Nokomis, he also stocked hundreds of vintage radio reproduction manuals, brochures, parts and T-shirts. He was a founding member of the Northland Antique Radio Club. His extensive knowledge of radios became so well-known that not only did The Zenith Corporation frequently contact him for information but so did the renowned TV show, The X-Files (something Alan was especially proud of).
Bluegrass fans and friends enjoyed spring and summer music events with Alan. He hosted his annual birthday party jam and BBQ on Memorial Day. For 22 years, starting in 1999, Alan organized the Laughing Waters Bluegrass Festival at Minnehaha Park on Labor Day.
On any given Saturday, a music jam might form at the radio shop too.
Alan's dad, Chet, passed on the love of baseball and the Minnesota Twins. Chet, Alan, and Alan's daughter Elise (Lisi), would make three generations of Jespersons at the old Met stadium, sitting along the first base line eating steak sandwiches and vying for autographs in the Tony Oliva and Rod Carew days. Alan liked to brag that in high school he held the record for throwing a softball farther than anyone else in his class. Watching DVR recordings of the Twins, Rachel Maddow and streaming shows into the late hours of the night were a favorite pastime of Alan's in his year of retirement from the radio shop.
As a loving dad and grandpa, Alan was always ready with his truck to move kids and their stuff around town, and recruiting them to drive the golf cart for the bands at the Bluegrass festival. He loved to play Bananagrams and tell jokes with Janine and his family, go to movies, and call Lisi day or night for a meet up at Perkins, Outback, a favorite deli or Asian restaurant. Alan's family included a long line of cats, who brought him so much joy and companionship throughout his life at home and at his radio and antiques shop.
In 2010 Alan recruited his best friend, and later wife, Janine Kemmer, to join the band on bass and vocal harmonies. The story of their romance is heartwarming. They brought love, laughter and songs wherever they went … and, incidentally, they are officially The Bluegrass Musician Couple With The Most Cats.
Alan and Janine threw a surprise wedding on stage at the 2018 Laughing Waters Bluegrass Festival. As their cats can attest to, a favorite love song that Alan and Janine sing together is "I Want To Be With You Always" by Lefty Frizzel.
Although Alan isn't signed up for organized religion, he did appreciate gospel music as an art form. The Middle Spunk Creek Boys released a gospel album, House of Gold, in 2002. Regardless of religious affiliations, songs like Going Up, Seeking a Far Off Home, and Where the Soul Never Dies are especially comforting to Alan's loved ones right now. We will miss him dearly and always. Minneapolis has lost a legend.
Some of Alan's ashes will be spread at Middle Spunk Creek. As he always said about the Middle Spunk Creek Roadside Rest Stop…he always left a little of himself behind.
A celebration of life will be held on Memorial Day, May 30, 2022.
cremationsocietyofmn.com

Memorials may be given to the Alan Jesperson Laughing Waters Bluegrass Fund at GoFundMe.com to continue Alan's legacy of the Laughing Waters Bluegrass Festival.

A Memorial Tree was planted for Alan
We are deeply sorry for your loss ~ the staff at Cremation Society of Minnesota