HAS A DEATH OCCURRED? WE ARE AVAILABLE 24/7
CALL Minneapolis ​(612) 200-2777 or duluth (​218) 208-0377
​​
Call Us
HAS A DEATH OCCURRED? WE ARE AVAILABLE 24/7
CALL Minneapolis ​(612) 200-2777 or duluth (​218) 208-0377
​​
Call Us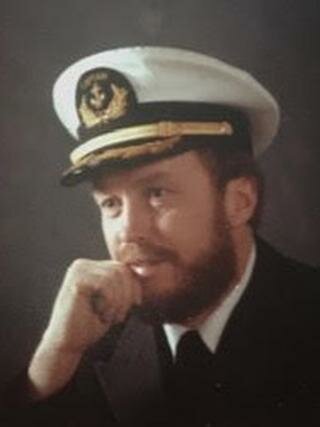 Obituary of Cap't Thomas H. Mackay
Cap't. Thomas H. (Tom) Mackay, 77, of Duluth, passed away unexpectedly at his home, on November 4, 2021. He was born in Duluth, MN on September 27, 1944 to James and Louise Mackay.
He grew up on Park Point, attended St. Andrews By The Lake Episcopal Church, where he was one of three to win a God & Country Award as a Sea Explorer Scout. Tom graduated from Duluth Central H.S. in 1962. He joined the Navy in 1962 and served on the Attack Carrier Oriskany, CVA-34 until 1966. He was a proud Viet-Nam veteran. After his military service was done, he returned to Duluth and went to work at the U.S Steel Plant, was Chief Engineer at the Arena-Auditorium, and Captain at Duluth Superior Excursions (Vista Fleet) from 1974-2006. "Running Boats and Marrying People!" He was a two term President of International Ship Masters Association-Duluth Superior Lodge 12. Vice President and volunteer of the Park Point Community Club, member of Duluth-Superior Harbor Club and R.O.M.E.O'S (retired old men eating out), Marine Club.
Growing up on Park Point, Tom enjoyed ice boating, rowing, and hockey (missing teeth and scars to prove it)! He was an amazing photographer, leaving us with so many pictures to treasure. Tom had a passion and love for boats and all things water related. From kayaks to huge boats he could handle them all. He called his back yard "Marina Del Bay," and the docks were always full of boats and fun people. He loved Lake Superior fishing, was an Isle Royale boater since 1959, and Harley rider.
Tom had a heart of gold and a knack for making friends anywhere. He made you feel special and was always one of the first people to show up when help was needed. He was a very fair man and a great guide and mentor to kids, co-workers and family. Bad jokes and story after story were his forte. No one laughed harder at his jokes than he did. His calm, easy demeanor, with "jack of all trades" knowledge, made him the go to guy. He could fix anything or find a solution for most problems. He was a very generous person, handing out one dollar coins to every child, contributing to things close to his heart, and making sure dogs and cats were taken care of.
He was preceded in death by his parents, brother James P. Mackay, sister in law Paula Erickson, brother in laws, Martin Erickson and Paul Erickson.
He is survived by his wife, Elizabeth (Erickson) Mackay. Sister Mary Mackay Gaidis (Mike). Brother in law Dave Erickson, Sister in laws, Connie Erickson, Elaine Ziemski Mackay, and Sandra Erickson.
Nieces and Nephews: Carolyn Mackay Gribble (Steve), Shannon Schwartz (Travis), Stephanie West (Chris), Kristin Schimek (Mike), Jennifer Kerr (Brady), Kari Delaney (Jim), Brea Erickson, Dana Erickson, Gregory Erickson (Nicole), Matthew Erickson (Taryn), and James "Jimmy" Mackay.
Great Nieces and Nephews: Olivia and Wyatt West, Sarafina, Will, and Bennett Schimek, Audrey, Jonah, and Luke Erickson, Shaemus, David, and Sarafina Delaney, Braeden and Chase Erickson,Casey Mackay, Kylie Gribble, Nima Mackay, and Mallorie Schwartz.
Tom is also survived by his many cousins and an abundance of friends. Thank you everyone for your love and support of our family.
"May the wind always be at your back, the sun upon your face, and the winds of destiny carry you aloft to dance with the stars"! You will be missed Cap't Tom!
There will be no services at Tom's request. Memorials may be made to Animal Allies or any charity of your choice.
A Memorial Tree was planted for Cap't Thomas
We are deeply sorry for your loss ~ the staff at Cremation Society Of Minnesota | Duluth