HAS A DEATH OCCURRED? WE ARE AVAILABLE 24/7
CALL Minneapolis (612) 200-2777 or duluth (218) 208-0377
​​
Call Us
HAS A DEATH OCCURRED? WE ARE AVAILABLE 24/7
CALL Minneapolis (612) 200-2777 or duluth (218) 208-0377
​​
Call Us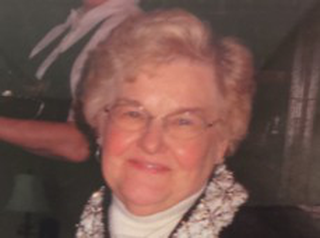 Obituary of Darlene Ione Elde
Darlene Ione Elde, devoted wife, mother and grandmother, of Midway Township and Elde's Corner, passed away peacefully on February 8, 2020. She loved and lived life with gusto.
Darlene was born November 29, 1933 in Duluth, MN. She was a true business woman. She and her husband, Earl, owned and operated "Elde's" that grew from a small general store and bar to a large grocery store, bar and supper club. In her later years, she worked as a nursing assistant at Viewcrest. She always practiced family first from cherished years of cabin life on Big Sandy Lake to the many anticipated and expected holiday traditions that continue to be practiced. She traveled and created great memories. Darlene treasured her dear friends and neighbors. She was a life-long member of Trinity Episcopal Church and Loyal Order of Moose Chapter 585.
She is preceded in death by her parents, William and Evelyn Towers and sister, Beverly Melanson.
Darlene is survived by her loving husband of 71 years, Earl; son, William "Bill" Elde (Betylu Denzler); daughter, Kathleen "Kathy" (Jerry) Haldorson; brother, George (Shelia) Towers; sister, Dorothy (Kurt) Besser; brother, James (Mary) Towers; brother-in-law, Marvin Melanson; grandchildren, Anne (Steve) Meyer, Jamie (Joe) Henry, Dawn (Mike) Hawkins, Ben Hubert; great-grandchildren, Phillip (Trista) Meyer, Nolan (Christina Wallin) Meyer, Ava Meyer, Madison Hawkins, Carter Henry, Jevin Hawkins, Lindsey and Caleb Hubert; and great-great-grandchild, Penelope Meyer.
The family would like to thank the staff at Viewcrest Health Center and St. Luke's Hospice. Also, a big thank you to all our dear friends and clergy at Trinity Episcopal Church.
Visitation: 10 a.m. until the 11 a.m. Celebration of Life, Thursday, February 13, 2020 at Trinity Episcopal Church, 4903 Maple Grove Rd, Hermantown, MN 55811.