Recommend Gerald's obituary to your friends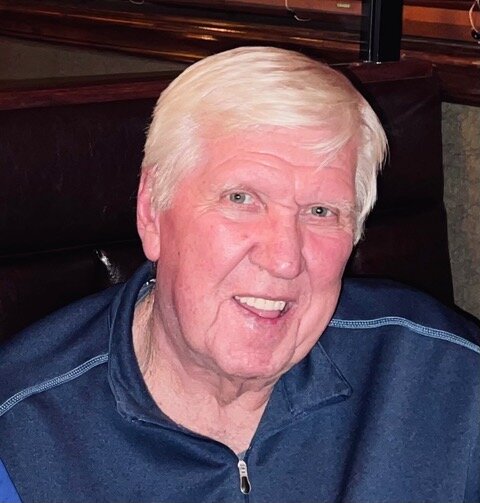 Obituary of Gerald Leon Hogan
Gerald "Jerry" Hogan, age 81, of Lakeville died peacefully in his home on April 14, 2023. Jerry was born in Minneapolis to parents Volney and Emma (Turek) Hogan on March 28, 1942. The third of four boys, Jerry was known for his calm demeanor, determination, and Tom and Jerry mixing skills. He grew up in Richfield with his brothers, Tom, Jim, and Ed. He spoke fondly of visiting relatives in Montgomery, Minnesota, especially visiting Franke's Bakery for kolackys, working at the family resort on Medicine Lake, and attending Benilde High School. After graduation Jerry attended Dunwoody Institute for sheet metal work, and soon after he was drafted into the Army and served in Vietnam. After proudly serving his country, he ventured into a career of building custom homes.
Jerry and Vickie met on a blind date shortly after he was discharged from the Army. They were married on November 10, 1967 and raised four children during their 55 year marriage. Faith and family were guiding posts for Jerry. He was rooted in his faith through the Catholic Church. He expressed his love for family by providing for them. Jerry coached the boys' sports, cheered his children and grandchildren on at their events, and found opportunities to express his pride in them to whomever he spoke to. He spent hours at the lake; boating, pulling skiers, and taking sunset cruises. Jerry's love of family shone through smoking meat for Sunday dinners, road trips, family vacations, and holiday celebrations. Jerry was especially honored to have his wife, Vickie, of 55 years by his side for these memories.
Jerry made connections wherever he went, and while he enjoyed his alone time looking at his coins or "working" in his office, he did love his social time too. Some examples include; spending time with the old Richfield neighborhood group, dinners with First Tuesday Group, beach time with the South Padre Gang, or weekends at Knudsen's cabin.
Jerry Hogan is survived by wife, Vickie Hogan; children Larry (Anna) Hogan, Patrick Hogan, Daniel (Melissa) Hogan and Jennifer Hogan. Grandchildren Gene Hogan, Kayla Hogan, Ayden Hogan, Josie Hogan. Great grandchildren Kinley Covelli and Sage Hogan.
Denise mother of Gene and Kayla and Shelley mother of Ayden.
In lieu of flowers, donations to 360 Communities or your local food shelf are appreciated.
Visitation
10:00 am - 11:00 am
Thursday, May 4, 2023
All Saints Catholic Church
19795 Holyoke Ave, Lakeville, MN 55044
Funeral
11:00 am
Thursday, May 4, 2023
19795 Holyoke Ave, Lakeville, MN 55044
Celebration of Life
12:30 pm - 3:30 pm
Thursday, May 4, 2023
American Legion Post 1776
Funeral Service
11:00 am
Thursday, May 4, 2023
All Saints Catholic Church
19795 Holyoke Ave
Lakeville, Minnesota, United States
(952) 469-4481
Celebration of Life
12:30 pm - 3:30 am
Thursday, May 4, 2023
American Legion Post 1776
14521 Grenada Dr
Apple Valley, Minnesota, United States
(952)431-1776