Recommend Patrick's obituary to your friends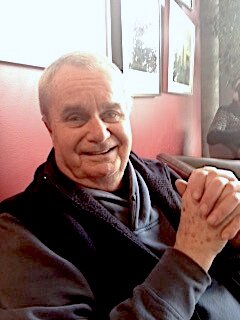 Obituary of Patrick Anthony King
Patrick King peacefully left the experience of time and space on September 19, 2022, after seventy-seven years. His spirit, now freed of personal ego, continues within a larger dimension, drawn inexorably to final and complete reunion with the Ground of All Being - or as Bill Wilson, the founder of Alcoholics Anonymous put it, The Great Reality. A.A.'s Twelve Steps of Recovery were an integral part of Patrick's life.
Born in Long Prairie, MN on May 25, 1945 to Frank and Kathryn Kay (Welter) King, Patrick graduated from Long Prairie High School and then St John's University in Collegeville. At LPHS he participated in four sports, lettering in three. He was track team captain. During his Senior year he edited the school newspaper and, with his best friend, co-hosted a twice monthly local radio show, playing "Top 40" hits while sharing school news.
While at St. John's, Patrick was a member of the debate team and debated throughout the Midwest. During his junior year he created and hosted a Saturday night show that ran twice per month on the campus radio station which also broadcast to neighboring St Benedict's college.
Shortly after graduation he served as junior staff member for then Governor LeVander, eventually becoming his advance person for many of the Governor's trips around the state.
He left that position after being selected by Proctor and Gamble as a sales representative, where he learned the basics of professional selling and how to put the customer first. Plus, as he joked, "the free Pampers for my infant daughter were a good deal.''
Eventually Patrick returned to Long Prairie to operate his own insurance agency. During those years he served a term on the Long Prairie City Council, co-founded the Long Prairie Combined Fund, and joyfully played center field for several years on the Long Prairie town team and coaching a League Champion women's softball team.
After nine years, Patrick and his family moved to Albert Lea during which time he spent several years employed by a Financial Planning firm, specializing in the sale and administration of Defined Benefit Retirement plans and, later, working for the U. S. Chamber of Commerce as a membership sales representative and sales trainer. For three seasons he moonlighted, covering Albert Lea Tiger basketball games for the Albert Lea Daily Tribune, establishing close relationships with the athletes he covered. "I always wrote the story primarily with the athletes and their parents in mind", he said.
He was then selected as a territory manager by The Research Institute of America, a provider of research and analytical materials in tax and employment law.
As was the case with the US Chamber, he was soon selected to be National Field Trainer for new sales representatives. RIA was purchased by the company which eventually purchased West Publishing and is now Thomson Reuters. Patrick spent the last years of his sales career working at Thomson Reuters Eagan Campus.
During a leave of absence in the later years of employment with Thomson Reuters, Patrick accepted an employment offer from a major Twin Cities asset management firm to arrange and coordinate corporate employee retirement seminars for the firm's professional advisors.
Also woven into his career were successful temporary contract positions with The Carlson Companies during its national employee benefit enrollment process in 1998-99 and later with an in-store consumer finance pilot project.
Nobody was a stranger to Patrick, and he would chat up anybody when given the slightest opening. He also delighted in making people laugh, smile, giggle, and sometimes groan with his quick wit and sense of humor. Along with George Carlin, he continued to be mystified as to why people drive in parkways and park in driveways. Maybe now, he'll find out.
He is survived by his beloved former spouse, Darleen, who for years had been his companion, partner, and loving best friend; by four brothers, John (Ruth Wingeier), Timothy (Janice), Vincent (Barbara), and Terrence (Neil Ludman); by his daughter Julie (Alex van Groenewoud) Christian and twin grand-daughters (Remarkable) Rachel and (Superstar) Sara; by his son Tracy, by seven nieces and nephews, two grandnieces and two grandnephews.
Patrick was preceded in transition by his parents, wife Donita, infant son John Patrick, and infant sister Cathy.
A Celebration of Life will be held on Saturday, November 5, 2022 at 2PM at the Twin Cities Friends Meeting House, 1725 Grand Ave., St. Paul 55105.
Celebration of Life
2:00 pm
Saturday, November 5, 2022
Twin Cities Friends Meeting House
1725 Grand Avenue
Saint Paul, Minnesota, United States