Recommend Joyce 's obituary to your friends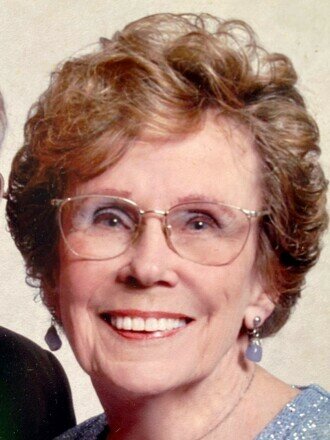 Obituary of Joyce Elaine Dohlin
Joyce Elaine Anderson Dohlin, 91, passed away July 6, 2022, at Elysian Senior Homes in Duluth. She was born January 20, 1931, and was the 3rd of 6 children born to Alfred and Gertrude Anderson. She grew up in Minneapolis and attended several years of college in Virginia, Minnesota before marrying Forrest, who would be her husband for nearly 62 years prior to his death in 2015. Once Forrest completed grad school and with a toddler and newborn in tow, they moved to Southern California and raised their 4 children there. When her youngest was in kindergarten, Joyce returned to her studies in earnest, completing a Bachelor's degree in Public Administration at UCLA and then working in several jobs, mostly in the healthcare industry, before going back to earn a Master of Business Administration from Pepperdine University. Her final job title before retiring in 1998 was Executive Director of Solheim Lutheran Long Term Care Facility. Once retired, she and Forrest moved back to Minnesota to be closer to family and lived for a number of years on Big Sandy Lake in McGregor. Joyce had always, for her entire life, been immersed in church leadership activities, and following her heart she earned a certificate as a Spiritual Advisor which she put to good purpose by using her lake
home as a Christian reflection and learning center called The Quiet Place. She and Forrest moved to, Duluth in 2011 and became active members of the Lutheran Church of the Good Shepherd.
Besides church, Joyce always took pride in many types of leadership activities from Southern California Jr. League Presidency to Campfire Girl leader, and always had a work ethic that kept her busy and fulfilled. She was named Citizen of the Year in 1960 for Granada Hills, California. She once was a featured contestant on Truth or Consequences with Bob Barker and was shocked when her mother walked onto the stage after being flown in for a visit by the show. While her cooking left a lot to be desired, she baked a fantastic pie and was proud of the awards she won for doing so. She enjoyed knitting, and frequently had a Crossword and/or Sudoku puzzle with her. She enjoyed watching Wheel of Fortune and was always excited when she could guess the word before the contestants did. She was generous to a fault, both in financial donations as well as in gifts of time, energy and even in sharing her home when she saw a need.
Joyce's greatest love was her family, and she was the organizer of many extended family reunions over the years. She was predeceased by her parents and 3 siblings: Virginia, Rosemary, and Gerry; and also, by her "adopted" son Steve McConnell. She leaves behind her 2 younger brothers Stuart and Lee Anderson, along with sons Mark (Ella), Jon (Elizabeth) and Todd Dohlin; and daughter Susan Ramsey. She was especially happy when she could unleash her inner child with her grandchildren Rhiana (Rod), Hallie (Ali), Jade, Travis (Megan), Amy (Trent), Adriano (Celine), Leandro (Maria), Jayne (Ivan), Noelle, Toby, and Lena. Her later life was at its best when she was able to be surrounded by great-grandchildren Olivia, Aracely, Lola, Josey, Jordy, Reese, Leif, Nohan, Tristan, Luciano, and Sabina. She was close with several of her nieces and nephews as well.
There will be a memorial service on Saturday, November 19 at 10:00 a.m. with visitation at 9:00 a.m. at Grace Lutheran Church in McGregor, MN.
Memorials may be made to any of the following: Lutheran World Relief, Habitat for Humanity, and Alzheimer's Association.
Visitation
9:00 am - 10:00 am
Saturday, November 19, 2022
Grace Lutheran Church
48115 Lake Ave.
McGregor, Minnesota, United States
Memorial Service
10:00 am - 11:30 am
Saturday, November 19, 2022
Grace Lutheran Church
48115 Lake Ave.
McGregor, Minnesota, United States