HAS A DEATH OCCURRED? WE ARE AVAILABLE 24/7
CALL Minneapolis ​(612) 200-2777 or duluth (​218) 208-0377
​​
Call Us
HAS A DEATH OCCURRED? WE ARE AVAILABLE 24/7
CALL Minneapolis ​(612) 200-2777 or duluth (​218) 208-0377
​​
Call Us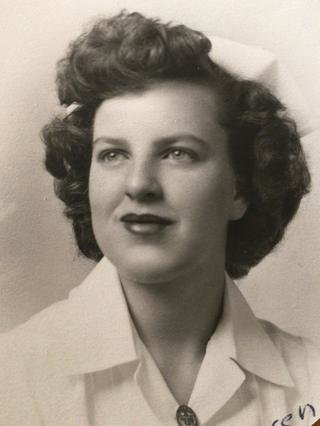 Obituary of Joan Ferdon
Joan Ferdon, nurse, tireless volunteer, ruthless board game player, and self described "Queen of the Joans" died peacefully on March 26, 2021 in The Shores Memory Care Unit at Ecumen Lakeshore. Throughout her life, she lit up a room with her smile, made friends wherever she went, and bloomed where she was planted.
Joan was born, raised and lived her life in Duluth. It was her dream to become a registered nurse, and she was accepted into St Lukes School of Nursing. It was during nursing school, while working at Joe Lee's Market in Lincoln Park, she caught Jerry Ferdon's eye. They decided to get married, but at the time, married women weren't allowed in nursing school. So, Joan and Jerry secretly eloped and were happily married until Jerry passed away just two months shy of their 70th anniversary.
"The Five J's" lived happily in Lester Park, but Joan remained fiercely proud Denfeld High School alum. In later years it made her wince to say her kids went to East High School.
Joan began her nursing career at St. Luke's Hospital, and over the course of her 30+ career there, was Head Nurse on multiple units. Mid career she returned to college and obtained her Bachelor of Science Degree in Nursing from St. Francis University. She took an early retirement from St Lukes, but couldn't stay away from nursing, so a year later joined the Minnesota Dept. of Health as a Nursing Home auditor where she worked until she finally retired at age 76.
Throughout her life, Joan was actively involved in community service until struggles with dementia finally slowed her down. She volunteered with the Red Cross and was a member of the Disaster Health Services Team where she responded to disasters locally and throughout the country. She also took great pride in her education and served on reunion planning committees for Denfeld High School and the St. Lukes Alumni Association. In her later years, she volunteered at the Information Desk at her beloved St. Lukes Hospital, but her favorite place to donate time was Glensheen Mansion as a docent. As a gregarious and outgoing person, it was the perfect place for her to meet and talk with people from all over the world.
Always a bit of a raconteur, Joan had a wicked sense of humor, and loved nothing more than telling a joke or recounting an incident she had during the day. Her uncanny ability to find humor in the most mundane life circumstances always provided material for a retelling at the supper table, where everyone would be in tears with laughter.
Music was always part of her life and Joan joyously played piano and accordion whenever and wherever she could. As a member of the Order of Eastern Star she served as the chapter organist for several decades, until she was in her 80's. Even when most of her other memories had faded, she entertained residents of the Shores by playing Scandinavian dance music she had learned as girl.
One of Joan's great joys in life was camping near Minong WI. The group of families who camped together for over a quarter of a century became lifelong friends, and dubbed themselves, "The Camping Cousins." Joan often said those summers were some of the best times of her life. It's now our fondest wish that she's joined Jerry in heaven and they are sitting around a campfire with The Camping Cousins, having a beer, telling stories, singing songs, and laughing.
Her husband, Jerry, preceded Joan in death.
She will be sorely missed and is survived by daughters Julie Anderson of Duluth, Jerri Lynn Leyse of Maple Grove, and son Jeffrey (Ellen) Ferdon of Charlotte, NC; grandchildren Ryan (Michelle Freeman), Alden, Nolan, Madison and Sheridan as well as great grandchildren, Henry and Elliot; Sister in law, Wanda Jones (Duluth), Brother in law, Donald Dohr (Rochester, NY), lifelong friend, Violet Parsons; nieces and nephews.
Due to COVID, a celebration of life will be planned for this summer.