HAS A DEATH OCCURRED? WE ARE AVAILABLE 24/7
CALL Minneapolis ​(612) 200-2777 or duluth (​218) 208-0377
​​
Call Us
HAS A DEATH OCCURRED? WE ARE AVAILABLE 24/7
CALL Minneapolis ​(612) 200-2777 or duluth (​218) 208-0377
​​
Call Us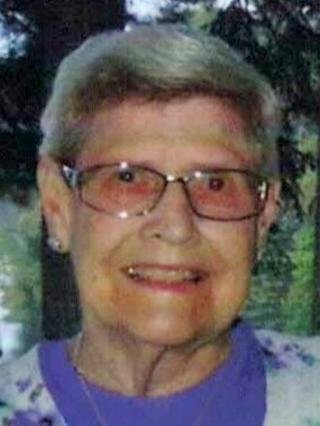 Obituary of Ola Haworth
Ola Jean Haworth, age 95, passed away on Monday, March 29, 2021 surrounded by family at the St. Luke's Hospice Unit. She was born Ola Jean Kinderdick on October 11, 1925 in Lyons, Kansas, the daughter and third child of Alva and Lula Kinderdick.
Ola Jean graduated from Lyons High School (Lyons, Kansas) in 1943 and attended Ottawa University in Ottawa, Kansas. She graduated with a Bachelor of Arts in Education in 1947. Following graduation, she was united in marriage to Calvin Albert Haworth in Lyons, Kansas on August 4, 1947. While Cal finished his final two years of college, Ola Jean taught grade school in Garnett, Kansas. She was also a church pianist and gave piano lessons.
After living and working in multiple states, Ola Jean and Cal moved to Duluth, Minn. in 1967. Ola Jean took classes at UMD to become one of the earliest special education teachers in Duluth. Her first special education job was at Ordean Junior High School, and she taught there and at Lincoln Park Elementary School, where she taught orthopedically impaired students for a total of 13 years. She was passionate about special education and fought for her students' right to the education she believed they deserved. Cal and Ola Jean later bought and operated Somebody's House Restaurant for four years, and later owned and operated both Kenwood Video and Piedmont Video stores.
Ola Jean was always involved with church activities, children, young people and women's groups, and was involved with Mothers Against Drunk Driving (MADD) when her husband Cal and daughter founded it in 1982. She volunteered for the organization for more than 20 years.
An avid and gifted gardener, Ola Jean was also a skilled seamstress. Along with Cal, one of Ola Jean's favorite pastimes was taking in wildlife and rehabilitating it back into the wild. After Cal was licensed by the DNR, Ola Jean helped with the rehabilitation of many deer, raccoons, a fox, squirrels, coyotes and a multitude of other animals.
Ola Jean spoke frequently about the exceedingly good life she felt she had lived, and that she felt God had always been so good to her. A woman of strong faith, she sought out the light in the darkest of circumstances and believed in the best of people. She loved her family dearly and is survived by her three children Susan Peterson (Donald) of Fort Collins, Colo., Patty Wheeler of Duluth, Minn. and Brent Haworth (Mary), also of Duluth, Minn. Ola Jean is also survived by her nine grandchildren Bret Peterson, Prent Peterson, Kelly Grgas-Wheeler, Kara Goucher, Kendall Schoolmeester, Amy Kebriaei, Kelly Haworth, Wade Haworth and Katie Albert, as well as 21 great-grandchildren.
In addition to her parents, Ola Jean is preceded in death by her husband of 73 years, Cal, her sister Miriam Haworth, her brother Winston "Buzz" Kinderdick, as well as her son-in-law Mirko Grgas.
The family would like to extend a heartfelt thank you to all the wonderful Hospice staff that looked after Ola Jean for three and a half years, and especially Holly Oftrowfki. Ola Jean and Cal also lived at Westwood for almost 16 years, and loved being residents there. The family would like to thank the Westwood staff that were part of their lives for all those years.
Memorials may be directed to Lakeview Covenant Church at 1001 Jean Duluth Rd, Duluth MN 55804. Family services are provided by the Cremation Society. A memorial service will be held for both Ola Jean and Cal sometime this summer.