HAS A DEATH OCCURRED? WE ARE AVAILABLE 24/7
CALL Minneapolis ​(612) 200-2777 or duluth (​218) 208-0377
​​
Call Us
HAS A DEATH OCCURRED? WE ARE AVAILABLE 24/7
CALL Minneapolis ​(612) 200-2777 or duluth (​218) 208-0377
​​
Call Us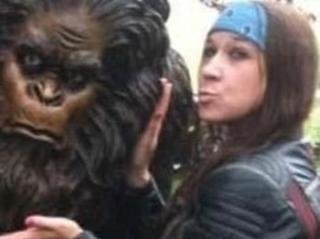 Obituary of Lacey Lynelle Olson
Look up to the night sky, see the bright star in the heavens dancing? It's Lacey Lynelle Olson, she shined and danced on Earth since November 30,1983 until March 15, 2021. From toddler to adult, she had an infectious smile and laugh that lit any gathering. With Lacey there were no pretenses, no phoniness, said it like it was, she was the Queen of Feisty, Master of Stubbornness, Director of Directness, Warrior for Acceptance and Non-judgement, Lover of People from every walk of life, culture, age, race, orientation, status. If you were troubled, lonely, sad, she would gravitate toward you to lift up your spirit, to console, to listen, to lift the weight off your shoulder, ease the pain you were experiencing, to get you out of the muck of despair, she did it with purpose, humor and kindness as she carried much of the same pain in her life especially her constant battle with Type 1 Diabetes and all the effects it dealt her.
Lacey worked at Fond du Luth Casino, where her humor, kookiness shined, cementing true friendships with coworkers and patrons alike. Lacey had a passion for volleyball, dancing, music, BIKES and LEATHER! From her lead role on her first tricycle to the back of a Harley she loved the wind whipping in her face, the sense of freedom, excitement, and peace. Her Biker Buds, were a family she adored, cared, and stood up for. She was a fierce defender of those she loved. She was our family's, photographer, videographer, comedian, technical support person and COOL auntie. She truly enjoyed making fun of us OLDSTERS needing assistance with phones, tv's, computers, yes, even alarm clocks, she was our #1 Geek Squadette.
Lacey was preceded in death by her father, Larry (Laird) Olson, her Grandparents Laird and Bernice Olson, Jack and Grace Curtis, Jean Moen. Lacey is survived by her loyal and constant companion, Slick her dogson who stayed by her side up to her last breath and beyond. Her Sissy, Carmen Rainey, her bonus brothers Jason (Slicks new mate), Tony and Stephen Moen, their spouses and the children that made her the COOL Auntie. Aunts, Uncles, and many cousins who will miss her spunk. Finally, her Bonus dad, who she loved, respected, admired, who has been a steady, calming force for over 30 years, Jeff Moen and mother, Gloria Moen, her ROCK as she would say, defender, protector, Lacey's Person, who deeply loved and cherished her without question. Lacey is free, no pain, dancing in the stars after a too short bike ride, licking a cherry dipped DQ, drinking a guilt free Mountain Dew and smiling down on us…giggling and saying… "Oh Wow Mom, that's not how you do it…ALEXA, help my mom, she is trying to use the Smart TV again." A Gathering in honor of our treasured, beautiful, forever kid, will be held in June. Donations appreciated of memories and/ or photos to be sent to Lacey's or Gloria's Facebook. Special thanks to Sissy, Jason, Alisa, Jen, Sarah, Nikki, Brando, Brandon, Marissa, Jordin, Jaiden, Karla, Linda, Melissa for help through this nightmare. We are adding Lacey's recent writing on her struggle with Type I Diabetes, if you are aware of someone struggling this may help you understand their turmoil with this disease. Let us all pray for a cure to eradicate this disease…Let's quit POKING around, let's get er done!
*** What's it like living with Type 1 diabetes? Well, here are some of my answers. My top two answers I will state first because they're also my biggest fears.
-It's worrying if you will wake up the next day because you don't know how your sugars will be throughout the night.
-It's having to be okay with death because in reality, it's a possibility at any given time with this disease.
It's pricking your finger endlessly throughout the day. It's not being afraid of blood because you see so much of it. It's no longer being scared of a needle because you've had no choice but to be poked by one every day. It's waking up countless times throughout the night to fix blood sugars that won't stabilize. It's waking up feeling hung over because your sugars were high all night no matter the amount of corrections you tried. It's not being able to eat whatever you want because it will affect your sugars later. It's having to put on a fake smile every time you have to explain to someone that type 1 and type 2 diabetes are NOT the same thing. It's constant stressing if you're going to go too low, drop too fast or go high. It's seeing all the scars all over my arms and legs from all the site changes and pokes and just cry. It's people staring at you while you poke yourself and watch you like something is wrong with you. It's people not understanding that I'm trying everyday to make it better. It's struggling with money and the possibility of debt because supplies are so expensive. It's watching people turn their head away as you poke your finger or give yourself a shot. It's watching your mom walk out of the hospital room because she's scared of losing you. It's waking up in the middle of the night dripping in sweat as your body is begging for sugar. It's being terrified to think about even having babies because there might be complications. It's avoiding anyone who is sick because you don't want to get sick and deal with high blood sugars. It's the possibility of ending up in the hospital over a stupid cold. It's the guilt that it's too much for a loved one to handle and love you for. It's arguing with your mom and having to yell at her that your sugars are high, and it only makes you more irritable. ~It Is Not Easy~