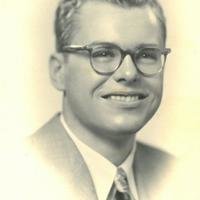 Obituary of John Edward Olsen
John Edward Olsen, 83, passed away in his sleep at home August 10, 2019, the day before his 84th birthday. He was born in Duluth, Minnesota at St Luke's hospital on August 11th, 1935 to Wesley and Edna Olsen.
John graduated in 1954 from Denfeld High School and served in the Navy during the Korean Conflict in the China Sea and was honorably discharged on June 13, 1962. He married Marianne Glass on the 4th of August, 1962 in Zion Lutheran Church in Duluth. He was employed by Jeno's Inc. until 1970 when he started working for the Duluth Public Library until his retirement. He was always active and loved his family. John was involved with the Senior Federation for several years and served as President. He loved watching all varieties of television programs on the TV, listening to his record collection, working on puzzles, reading and playing cribbage with his family.
His beloved wife Marianne passed away in 2009. He is survived by his sons Stuart (Nancy), Steven, and Craig of Duluth, grandchildren Benjamin, Jenna, Madelynn and Laura of Duluth, sisters Arlene Robinson of Bruno, and Virginia (Dale) Larsen of Duluth and many nieces and nephews and their descendants.
Per John's wishes, there will be no visitation and no services will be held. "The peace of God which passeth all understanding shall keep your hearts and your minds through Christ Jesus"
To send flowers to the family of John Olsen, please visit Tribute Store