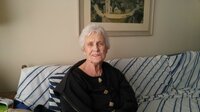 Onis Anita Baeyen
Onis Anita (Broderick) Baeyen of Bloomington, MN, passed away on Febrary 14, 2023, at the age of 88. She was surrounded by her loving family.
She is preceded in death be her father, Vincent Broderick; her mother, Anita Conrad; her sisters, Birdie McClintock and Marylou Schiedinger.
Onis is survived by her husband of 64 years, James; their children, Thomas, Robert (Sandy), Julie (David) Casto, Steven (Vickie), John (Kathy); grandchildren, Christina, Courtney, Maxwell, and Samuel; brothers, Frank (Mary) and Michael (Mary); and many nieces and nephews.
A memorial service will be held at the Cremation Society of Minnesota- 7110 France Ave S, Edina, MN, Sunday, March 26, 2023. Visitation at 11:00am and Celebration of life at 12:00pm. Refreshments and fellowship to follow. Internment at Fort Snelling National Cemetery.