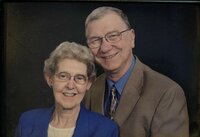 Marjorie Lee Peterson
Marjorie Lee Peterson, age 88, of Roseville, MN, passed away February 17, 2023. A Celebration of Life service will be held on Saturday, April 29 at 1:00pm at First Covenant Church, 1280 Arcade St, St. Paul, MN 55106 for both her and her husband, Ken, of 63 years. The service will be live- streamed for those not able to attend. A dessert reception to follow the service. Private Interment Ft. Snelling National Cemetery. Memorials preferred to the church.
Marjorie (Marge) was born in Pilot Mound, Iowa, on November 5, 1934, the daughter of Donald Loel Reutter and Mabel Anna Martha Hedblom Reutter. She graduated from Boxholm High School in 1954. Her faith and love for Jesus led her to North Park College in Chicago, Illinois where she received a degree in Christian Education. That is where she met the love of her life, Ken Peterson. They were married on June 6, 1959, and had two children, Susan and Alan.
Marge, "Mrs. Marge" was a preschool teacher at Happy Day Preschool at First Covenant Church for 30 years. Her daughter, Susan, was in the first year she taught and her grandson, Bjorn, was in her last year before she retired. She served as Sunday School Superintendent. For many years, Marge and Ken provided leadership for the Wednesday Morning Bible Study at their beloved church, caring for both the spiritual and social needs of the group. On Sunday mornings they made sure long time members and first time visitors were welcomed through their ministry overseeing the Welcome Center.
Marge and Ken shared a love for traveling in their early retirement years. They had some wonderful trips with their friends. One of her biggest joys in life was being a grandmother to her two grandsons.
Marge was survived by her husband, Ken, who passed away on March 4 and her two children; Susan (David) Pederson and Alan Peterson; two grandsons: Bjorn Pederson and Anders (Mary) Pederson; three sisters: Marilyn (Jerry) Stumbo, Geraldine (Barry) Martin, and Marlene Rabern; and three brothers: Larry (Jackie) Reutter, Leo Reutter and Gary (Vicki) Reutter.
Preceding her in death were her parents; sisters Dorothy Davidson, Donna Gillis, Darlene Reutter, Roberta Clausen and Rosella Gordon; brothers Ronald Reutter, Robert Reutter and Gene Reutter.