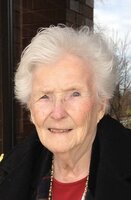 Eleanor Ann "Elly" Ryan Fisher
Eleanor (Elly) Ann Ryan Fisher, age 98, passed away peacefully on Feb 22, 2023 at her home.with family by her side. She and her husband Rex shared over 50 years of marriage together before his passing in 1997.
Born in Minneapolis, Minnesota, she lived her early years in the Morningside area of Edina while attending St. Thomas School. Later when she married Rex, they moved to St. Louis Park, MN, Wausau, WI, and Ironwood, MI, then returned to St. Louis Park, MN.
She later worked at AAA and volunteered at the Edina Historical Society and Opportunity Partners. She was a member of the Seventh Day Adventist Church, Southview and clung tightly to her faith in Jesus Christ. She loved being with and praying for all her family, and loved going out to eat with family and friends. Her kindness, generosity, love, and support for family and friends was displayed throughout her life.
She is survived by her brother Tom Ryan (Janice) and her children, Meg Meyer, Anne Cox, Mary Fisher, Gregory Fisher, John Fisher (Ronie), Monica Lundberg (Mike) and adopted daughter, Annie Walsh. As well as many grandchildren, great grandchildren, great great grandchildren, and many nieces and nephews.
She was preceded in death by her husband Rex and her sons, Thomas (infant) and Stephen.
A memorial gathering will be held this summer. Sunday July 23, 2023. Memorial Gathering at 12:00pm with a receoption to follow at the Cremation Society of Minnesota, First Memorial Chapel, 7110 France Avenue Edina, MN 55435.