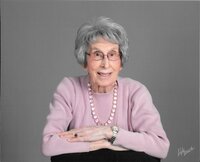 Dorothy Ann Finkelson
Dorothy Ann Finkelson died peacefully at the age of 95 with her family at her side and under hospice care at her home on January 4, 2023, after a short illness.
Dorothy was born in Crookston, MN, as the youngest of three children. She graduated as valedictorian of her high school class and made her way to Minneapolis to train as an x-ray technician. She met her future husband, Ordean, while working in Fergus Falls, MN. They married in 1954, the beginning of a loving relationship of 64 years.
Dorothy was a devoted and loving wife, mother, aunt, grandmother, great grandmother – and a caring and compassionate friend to many. She lovingly raised her four daughters, while also volunteering with Roseville Gymnastics, 4H Club, the Food Shelf, Habitat for Humanity, Minnesota DFL Party, and serving countless hours at New Life Presbyterian Church. Dorothy was an avid reader of mystery novels, bridge player, golfer, ballroom dancer, alpine and cross-country skier, crossword puzzle solver, and world traveler. She and Ordean were also avid gardeners, sharing the bounty with friends and family.
Dorothy was preceded in death by her parents, Leo and Gertrude, her brothers, Bill and Ralph, and her husband, Ordean.
Dorothy is survived by her daughters: Barb (Mike) of Mound, Kristi (Mike) of Lakeville, Carol (Mark) of Pewaukee, and Diane (Greg) of Savage. Dorothy loved her six grandchildren: Matt (Lindsey), Ryan (Kelly), Loren (Krysta), Cole, Taylor, and Joe and her five great grandchildren: Caleb, Jackson, Allie, Jack, and Maggie.
A 10 a.m. visitation will be held on Saturday, March 18, followed by an 11 a.m. memorial service and luncheon at New Life Presbyterian Church at 965 Larpenteur Avenue West, Roseville, MN. Both Dorothy and Ordean will be interred at Fort Snelling National Cemetery on March 17.
In lieu of flowers, memorials are preferred to support Dorothy and Ordean's passion for higher education for women:
American Association of University Women, AAUW (St Paul College Club)
For the Women's Scholarship Trust
990 Summit Avenue
St Paul, MN 55105