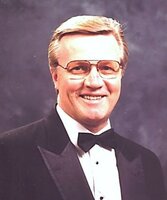 David Carl Mattson
David Carl Mattson 84 years old of Duluth Mn passed away peacefully on Monday February 20, 2023, at Solvay Hospice House.
David was born on October 12, 1938 in Duluth Mn to Alice W. and Carl V. Mattson. He attended Proctor schools and graduated from Proctor High School.
David married Patricia Ann Johnson on June 23, 1959. He was employed as a fireman at the Duluth Fire Department with the last 17 years as the City of Duluth Fire Marshal. His hobbies and organizations included DMQ (Dave Mattson Quartet); Euclid Masonic Temple; AAD Shrine; Scottish Rite; Euclid Chapter Eastern Star; Superior Chapter Eastern Star; Worthy Grand Patron State of MN 1997, Special Olympics Volunteer; and the Duluth Musician Union.
David is preceded in death by his parents: Alice W and Carl V Mattson; sister Sandra (Mattson) Olson; brother Russell Mattson; son Timothy Allen Mattson; and grandson Dylan Lial Dueland. He is survived by his wife Patricia, daughters; Laurie (David) Dueland, Barbara (Jeff) Lefever; son, Paul (Lisa Vojacek) Mattson, 10 grandchildren; Ian (Julie) Clancey, Lee (Lindsey) Dueland, Clay Dueland, Cody Dueland, Peter (Tristan) Dueland, JonPaul Mattson, Lyndsey (Matt)Knops, Joseph Mattson, Justin Middleton, Jesse Mattson, 12 great grandchildren and brother Craig ( Tammy) Mattson.
The service will be held on March 4, 2023 at Cremation Society of Minnesota at 3:00p.m. with a visitation at 2:00 p.m.
In Lieu of flowers, please send a memorial to charity of choice.
ial Thanks to the staff at Ecumen Lakeshore Nursing Home and Solvay Hospice House.