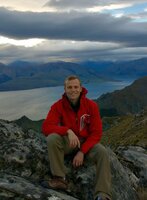 Eric Donald Mortenson
Eric passed from this life into eternal life on January 31, 2023 at the age of 44. He was a resident of Minneapolis, MN.
Born May 03, 1978 in Starkville, Mississippi, Eric spent the majority of his childhood in Minnesota and Wisconsin. He graduated from Mounds View High School.
Eric earned his bachelor's degree in biology from Westmont College in Santa Barbara, California. After college he moved to Seattle where he was a co-founder of Bellevue Healthcare. Eric then accomplished his PhD in immunology from the University of Chicago. He worked most recently as an Executive Medical Science Liaison with Bristol Myers Squibb.
Eric loved to adventure. He traveled the world and enjoyed documenting his trips through his amazing photography. On these adventures he thoroughly enjoyed the outdoors with activities such as hiking, biking, camping, swimming, and scuba diving just to name a few. Eric loved music and was a voracious reader. Many of these activities he did for entertainment while others were influenced by his strong Christian faith. Whether he was with friends or family, Eric was intentional and generous with his time that he spent with those he loved.
Eric is predeceased by his grandparents Lois and Jerome Chadek, Don and Helen Mortenson.
Survived by his father Don (Sherry) Mortenson, mother Dawn Chadek Mortenson (Matt MacDonald), brother Brett (Leah) Mortenson, sisters Lauren and Lindsey Mortenson, nephew Jonah Mortenson and niece Phoebe Mortenson.
Memorial services will be held Sunday, February 12 at 1:30 pm at Mill City Church located at Las Estrellas School 1201 University Ave NE, Minneapolis, MN 55413 with reception to follow at Tattersall Distilling 1620 NE Central Ave #150, Minneapolis, MN 55413.
The family has asked that Memorial Contributions be made to standuptocancer.org, aeon.org or a charity of your choice.
Arrangements are under the direction of the Cremation Society of Minnesota.