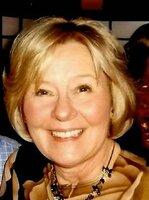 Kathleen Renee "Kay" Rothe
Rothe, Kathleen ("Kay") R., age 74, passed away peacefully at the family home in Chaska on Tuesday, January 24 from pulmonary fibrosis.
Kay was born on November 9, 1948 in Minneapolis and was the oldest of four children. She graduated from Richfield High School and immediately began nurses training at Minneapolis Vocational. Kay proudly practiced nursing for five decades of her life, with most of her career dedicated to cancer patients and cancer research. She was honored to work with many talented colleagues, first in private practice and, later, at Park Nicollet, Oncological Consultants, CCOP Research and Virginia Piper Cancer Institute. She volunteered at North Memorial and was a voting judge. In recent years, Kay was elected to the Board of the Jonathan Association in Chaska, where she passionately served as Vice President.
She married her loving husband, Skip, in California, but soon returned to their home state of Minnesota to grow and raise their family. She was a tireless and enthusiastic supporter of their children's activities and lives while also balancing a career. Kay and Skip enjoyed many pastimes together, including travel, wine club and social time with friends. Her group of friends was large and extremely important to her and Kay kept in close contact with most throughout her lifetime.
With Kay's passing, the world has lost one of its great caregivers. A licensed practical nurse by training, an oncological nurse by profession and a fearless marshal of resources in times of need, Kay could always be relied upon to help. Her help was not limited to the lucky few that were close to her, and she did not wait for anyone to ask. Caregiving was in her soul.
For her husband, brothers, in-laws, children, grandchildren and many friends, time with Kay often brought notable memories. She was the loudest in the stands, the first on the dance floor and, on occasion, made comments that danced over the line. While her kindness was legendary, she was best known for her individual gestures of love – a special note, just the right sweets or a thoughtful gift. She may have been fashionably late, but she would never arrive empty-handed.
Kay was preceded in death by her parents, Leo and Alice Bjerva, and her brother, Paul Bjerva. She is survived by her husband, Skip, their three children Kim (Wayne) Nau, Brandon Rothe (Monica Idzelis Rothe) and Christian (April) Rothe and her brothers, Scott Bjerva (Deb LaLonde) and Bruce Bjerva (Noelle Maze). She is also survived by seven grandchildren, whom she loved very much: Anna, Megan, Zack, Becca, Hunter, Evan and Claire as well as several cousins, nieces and nephews.
Private services will be held for the family, while family and friends will be invited to a Celebration of Life at a future date. In lieu of flowers, donations may be made to the charity of your choice.