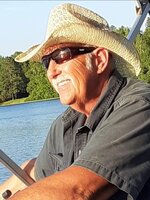 Lee Ellwood Erkkila Sr.
Lee Ellwood Erkkila Sr. , 65 of Esko, passed away January 18, 2023. He went peacefully in his sleep at Solvay hospice house with his wife by his side.
Lee was born April 21, 1957 to Muriel and Oliver Erkkila. He was a Morgan Park Wildcat.
After high school he traveled often and lived in many different places. He married the love of his life Kathy Hyke on August 12, 1989. He retired from MSOP in 2015.
He had an unmatched zest for life. He loved hunting, fishing, riding his harley, gold mining, going to the cabin with his family, and tinkering on his never-ending projects in the garage.
He is preceded in death by his step son Chad, his father Oliver, his mother Muriel, and his step father Paul Mega. As well as his in-laws Walter and Ruth Hyke.
He is survived by his wife of 42 years, Kathy, sons Lee Jr. (Mandie), John, daughter Tiffany. Brother Mark (Linda), sisters Shar (Terry) Barnes, Diane Coning, Paula (Dick) Johnson, Annette Mega, sister in law Debbie, and many nieces and nephews. As well as countless friends.
Service will be January 28th. Visitation at noon, service at 1pm at Redeemer Lutheran church. 9503 Grand Ave 55808.
We would like to thank the doctors and nurses of Essentia, and Solvay hospice for all their efforts and care.