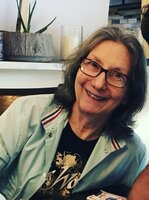 Marsha Lee Stoltzmann
We are saddened to announce the passing of Marsha Lee (Dalaska) Stoltzmann, on November 12, 2022. Marsha was preceded in passing by her parents, Ed and Verna Dalaska, and her brother Craig. She is survived by her husband, Bill, her children Angela and Jason (Erin), her grandchildren Esabella, Samuel, AnaMaria, Joseph, Mackenzie, and Hazel, and her niece Kris, along with many cousins.
Marsha graduated from St. Olaf College and William Mitchell College of Law. She was a trusted advisor and financial planner for a number of the Twin Cities' top executives before transitioning to the role she deemed most important; providing her children a safe, secure, and Christian-based development.
We will celebrate Marsha's life and the time we shared with this wonderful lady on December 2, 2022, from 4:00 - 8:00 pm. A time of sharing and songs with take place from 6:00 - 7:00 pm, at the Cremation Society of Minnesota, 7110 France Avenue S, Edina, MN. Please join us and feel free to share how Marsha touched your life.