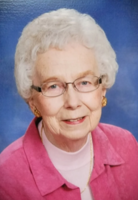 Nancy Jean Hansen
Nancy Jean (Rindal) Hansen was born to Adolph S. and Dorothy J. (Cullen) Rindal, on October 31, 1933. She graduated from Duluth Central High School in 1951, was a member of Chester Park Church until it closed in June of 2012. She then joined First United Methodist Church, the Copper Top, until her death. She was a member of Rebekah circle while at Chester Park Church. These were the "crafty ladies", and her sandwich loaf was always the talk of the town during the Christmas Bazaar. She worked in the accounting department of MP&L, where she was recognized for streamlining several accounting practices, until she married Jonas E. Hansen in 1958. When she returned to the work force, after raising her two daughters, she joined the staff at Pam's Hallmark where she worked for 30 years, was a fixture there until the store was sold to Evenson's, and she retired. Nancy was on several bowling leagues during the course of her life, did not have a handicap, and won many accolades for her skills. She also loved to bake, and her pumpkin bars were legendary at Pam's Hallmark.
She is preceded in death by her parents, Adolph S. Rindal, Dorothy J. (Cullen) Rindal, and her brother Roy C. Rindal. She is survived by her daughters, Dawn C. Hansen (Richard O. Marshall), and Carla J. Hansen-Lunke (Ronnie Lynn Hansen-Lunke), her brother Robert J. Rindal, her sister-in-law, Nevelyn Rindal, several nieces, nephews, great nieces, and nephews.
The family requests in lieu of flowers, donations be made to either First United Methodist Church memorial fund, or your local Alzheimer's Association.
A Celebration of Life will be held Monday, October 31, 2022, at First United Methodist Church, the Copper Top. Visitation will be noon to 12:45, Celebration of Life at 1:00 with a reception to follow in the Parish Hall.