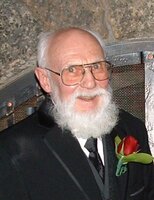 Douglas Leo Olsen
Douglas Leo Olsen, "Ole", of Eden Prairie, Minnesota, a brilliant minded engineer and ultimate jack of all trades, passed away on Thursday, September 15, 2022 at the age of 85, surrounded by his loving family.
Douglas was born on February 11, 1937 to Gilbert and Florence Olsen of Minneapolis. He was active in Boy Scouts and from a young age loved hunting and fishing. He graduated from De La Salle High School where he joined the Rhythm Rods Car Club with his high school friends. Even as the years went on they continued to meet and even made club jackets. At the age of 20, he bought a new 1957 Ranchero that he raced, crashed, and then restored over the course of 60 years. As a lifetime member of the NRA and Carver County Sportsman's Club he enjoyed shooting and was an excellent marksman.
He served in the Army as an aircraft mechanic and after being honorably discharged he started Viking Aviation with a good friend. He then went on to work at Brace, Fowler, and finally Osmonics, where he obtained numerous patents for water purification and kidney dialysis machines during his nearly 30 year career with the company.
After he retired, Doug paired his love of cars and racing with his skills in fabrication and drafting and launched a business restoring old cars; he was successful in this endeavor until his passing. In his older years when he wasn't in his recliner watching old westerns, Doug enjoyed spending time at the family cabin he built, attending "Back to the Fifties" every year with his Ranchero once it was restored, loading shells, and hunting with his friends and sons.
Douglas is preceded in death by parents Gilbert and Florence Olsen and is survived by his wife of 60 years Judith Irene; children Douglas Gilbert (Peggy), Jeanne Marie Deitz (Jerry), Christopher Dale (Jessica); grandchildren Maxwell Douglas Deitz, Anikka Grace Deitz, Ashlynn Kate Lepore and Austen Elizabeth Lepore; sisters Barbra Jean Bishop and Carol Savik and many friends and extended family. As a man who was loved by many and respected by many more he will be greatly missed.
A visitation will start at 10:00 a.m. then a Celebration of Life at 11:00 a.m. on Monday, September 26th at Pax Christi Church, 12100 Pioneer Trail, Eden Prairie. Followed by a luncheon and car show.
For those unable to attend, the service portion of the celebration will be live streamed at https://www.paxchristi.com/index.aspx.
Weather permitting, we request that you drive your vintage classic car to the service.
Burial with the Honor Guard at Ft. Snelling on October 27th at 10:45 am.