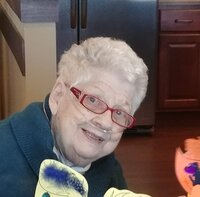 Joan Somers Jensen
Jensen, Joan S. (nee Piper)
Age 91 of St. Paul, MN, passed away peacefully on September 19, 2022.
Joan was a dance teacher for 63 years, and enjoyed volunteering at Como Zoo. She was a Girl Scout leader, active in the church, and enjoyed square dancing with her husband Warren. Joan and Warren were high school sweethearts and remained close with their high school friends, getting together monthly. They lived in St. Anthony Park for over 40 years, where they raised their six children.
Joan is preceded in death by husband, Warren; parents, Ralph and Goldie Piper; great-granddaughter, Lydia Marie Villella.
Joan is survived by her six children, Richard (Michelene), Susan (John) Villella, Julie (Paul) Villella, Patti (Michael) Price, AmyJo, Rodney (Katy); 15 grandchildren, Anne, Nick (Carrie) Villella, Daniel (Katrina) Villella, Johnny Villella, Jennifer Villella, Paul Villella, Andrew (Erin) Villella, Cristina (Nicole) Villella, Ryan (Rachel) Price, William Doncits, Courtney (Jason) Oliver, Jake (Leah) Doncits, KatieJo (Darin) Svenson, Kimberly (Robert) Riley, Kristin (Courtney) Brommer; 17 great-grandchildren, Brianna, Annelise, Aram, Vincent, Ava, Olivia, Natalie, Vera, Milo, Warren, Julia, Gunnar, Shayla, Sadie, Henry, Tula, Reggie; beloved sister, Judy Majerle; and many nieces, nephews, family, and friends.
Celebration of Life will be held on Saturday, October 15 at 1PM at Johanna Shores Fellowship Hall, 3200 Lake Johanna Blvd, Arden Hills, MN 55112. Please join the family for fellowship and a light lunch after the service.
Memorials can be donated to Como Zoo.