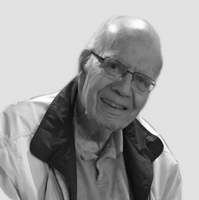 Gordon Richardson
Gordon Richardson
December 24, 1932 – August 26, 2022
Our dates give everyone a beginning and an end but there is so much more life unseen that is spread out over that little dash.
Beginning life in Duluth, MN in Lakeside Gordon's childhood was a boy's dream. Few houses and plenty of adventure through the woods with friends. These years molded Gordon to always strive to see beyond his circumstance and to experience all that life had to offer. College opened doors never imagined and the Air Force gave him a taste for life. With his bride, Beverly, they traveled the country and proudly served our nation. He served too in the Duluth Air National Guard.
Soon five children were at the table, and it was time to strike out into the business world. As a chemist, his career path took him into the wastewater filtration, treatment, and aeration industry. The family crisscrossed the nation in his career pursuit. International projects were also in store for him. More time at home and with family the lessons of childhood, college and the Air Force shone brightly. Honesty, integrity, humility, endurance, long suffering, and a splash of humor became the cornerstones of his character. Creativity and a sculptors flair appeared one morning after a snowstorm when a snow bear, Donald Duck and other cartoon characters appeared alongside old frosty the snowman in our front yard. His passion for aircraft from the Air Force was found in scale handcrafted planes and hand whittled propellers. Our dad was intelligent, precise, creative, and greatly inquisitive and loved to share that with us while we attempted to build some of our own to his delight.
The kids grew and so did his humor. A quick smile, a real big bear hug and a joke that if he told brought him to tears because he was laughing the hardest among us. That is what kept the strength in the home… love and laughter. That would be tested when mom began a battle with cancer. However, the scare and struggle with cancer wasn't enough to shake his steadfastness to provide and care for us all. The hopes and the many prayers during this time were seeds of Faith deposited in their lives which blossomed into a glorious commitment to Jesus Christ.
Their lives were never the same. All the graces of humility and patience and meekness only grew deeper and richer. People they encountered came away a little better for the time spent with them. After mom passed, dad continued to give more than he received through a smile, kind word, a joke (with tears) and a sincere handshake. Dads' demeanor of strength, respect, tenderness and being a true gentleman even during these difficult years, were an inspiration to all.
Now the people that they knew share their stories with us and we get to laugh and wipe a tear. Today they are together in heaven enjoying the Lord they loved so dearly. There are no tears in heaven, but we think there are a few shed over some jokes he is telling.
Our heartfelt thank you to the Benedictine Living Community who have become an extension of our family. You have our greatest respect and gratitude as you have cared selflessly and lovingly for so many. We love the stories you have shared with us of how enjoyable it was to be around our dad.
Gordon is survived by his sister Rosemary (John) Paulson, his children Lisa (Doug) Hultberg, Brian (Tammy), Dean (Tammy), Daniel, Nancy (Bob) Adams. 8 grandchildren and 12 great-grandchildren.
A committal with military honors will be held at the Minnesota State Veterans Cemetery, 4777 Hwy 53, Saginaw, MN on Thursday, June 22, 2023. Details to follow at a later date.