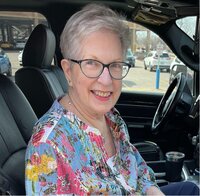 Joan Rebecca Wicklund
Joan Rebecca Wicklund was born on March 5th, 1940 to Leonard Baron and Margaret Bogart Burns Baron in Mineola, New York. Joan graduated from Central High School in Minneapolis, MN in 1957. Joan went on to St. Olaf College and finished her education at the MN School of Business in 1959.
Joan married Raymond Howard Wicklund at Plymouth Congregational Church on May 23rd, 1959. They were blessed with two sons, Steven Leonard and Eric Ray; three grandchildren, Nicolas R, Kayla R, and Tori J; and one great-grandchild, Barron B.
Joan was employed as a legal assistant for many years. Joan kept very busy with family and church. Joan was active at Plymouth as a member of many groups including the Board of Member Care, Memorial services Committee, Prayer chain, Board of Deacons, Knit-A-Bit group, and as chair of the Worship Committee. Joan found her community in the Morningside Women's Club, the Thursday morning Spirituality Group, and by attending Olli classes at Plymouth.
Joan was truly blessed. She departed this life on August 15th, 2022 She was preceded in death by her love, Ray; by her parents, Leonard and Margaret; and her brother Donald Bruce. She leaves behind her sons, Steven and Eric, her grandchildren Nicolas, Kayla, and Tori; her brother Gilbert and his wife Jean; her sister-in-law Anita and nieces Tasha and Laura and great niece Elise and great nephew John Ivan and many other friends and family members.