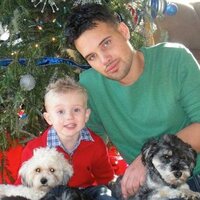 Jaise Matthew Goldsberry-Weldon
Jaise Matthew Goldsberry-Weldon, 36, of Brooklyn Center, MN, died on July 2, 2022. We will celebrate Jaise's life Friday, July 15, 2022, 3-7 pm at MC's Tap House, 9690 Colorado Ln N, Brooklyn Park, MN 55445. Family and friends are welcome.
Jaise is survived by his son Everett Jaise Weldon; mother, Lonie Goldsberry (William Hill); father, Walter Weldon, III; siblings Jahna Goldsberry, Chet Goldsberry-Hill, Justin Blaisdell, Lilly, and Leo Weldon; grandfather, Chet Goldsberry, Jr., godparents, Layne Goldsberry and Paula Zendle; niece, Kaylin Goldsberry; nephew, Elliott Goldsberry-Dorn, and multiple aunts, uncles, and cousins.
He was preceded in death by his grandmothers, Mary Lou Goldsberry and Joanne "Joi" Webb, both of whom he adored, and a grandfather, Walter "Sonny" Weldon, II.
Jaise was born December 11, 1985, in Cedar Rapids, Iowa: The son of Walter Weldon and Lonie Goldsberry. He attended Catholic elementary and junior high schools in Cedar Rapids and completed his high school education in the Twin Cities. Jaise attended college at Hennepin Technical College and North Hennepin Community College. He worked as an auditor for 18 years at United Parcel Services. In 2010, Jaise married and bought a home in Champlin, MN. He and his former wife had one child together, a son, Everett.
Growing up, Jaise was often a goof and jokester. He loved to make people laugh with embarrassing quips about those around him. Although he loved the uncomfortable laughs, Jaise ardently loved and was loyal to each and every member of his family and friends. He was exceptionally empathetic to others' feelings and had an enormous heart. Jaise had high expectations and moral standards; he recognized human faults and pushed everyone to be better, but none as much as himself. He spent a lot of time thinking about how one becomes a better person, contemplating deeply about the meaning of life. He believed, "Tomorrow will be brighter." He was an avid nature-lover, bringing home and surrounding his family with various pets and critters.