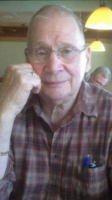 Raymond Leonard Larson
Raymond Leonard Larson "Ray of Hope" "Ray of Sunshine"
Left this world to be with his Heavenly Father on June 22, 2022, he was 83 years old.
Raymond was born on July 23, 1938. Raymond enlisted in the Navy on September 6th, 1955 with the U.S. Naval Station in Newport, Rhode Island. Ray Retired from the Railroad and U of M.
His 35+ years of sobriety called him to mentor so, so many people. Ray's legacy of humor, faith and kindness will live on in many of us. "Keep it Simple".
Preceded in death by his parents, Andor and Agnes Larson; siblings, James, Audrey and Betty Larson; the mother of his children, Gail Diana DeMerchen; and children, Danny and Diane Larson.
Survived by his children, Raymond Jr., Jeannine, Kelly, and Alen Larson. Ray also leaves behind many loving and caring grandchildren and great-grandchildren.
Raymond will be buried at Fort Snelling National Cemetery.
Memorial / Potluck to be announced.
Proverbs 3: 5-6
Trust in the Lord with all your heart, lean not on your own understanding. Seek His will in all you do an He will direct your path.
John 14: 27
I am leaving you with a gift- peace of mind and heart. The peace I giveth isn't like the peace the world gives. So do not be troubled or afraid.