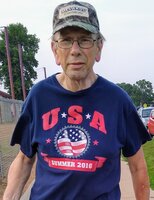 Robert Hagensen
Robert "Bob" Valentine Hagensen, 62, formerly of Duluth, Minnesota passed away in his Belle Plaine home surrounded by his family on June 8, 2022 after an ongoing battle with cancer.
Bob met the love of his life, Emma, at just 12 years old and knew that things would never be the same. Growing up in a small family, it was quite the adjustment to later marry Emma and join the exuberant Halvorsen clan of nine. He quickly went from one sibling to seven! Being a car enthusiast and jack of all trades, Bob found joy working in the auto body industry which turned into a nearly 30 year career with American Family Insurance. He was always fixing something or helping others whether it be working on his grandkids' bikes, fixing a neighbor's lawn mower, working on his daughters' cars, or helping to build a rocket or marshmallow shooter with his son. Bob found his purpose in taking care of those he loved. Bob also loved baseball, especially his favorite team- the MN Twins, spending time outdoors tending his gardens, fishing, or vacuuming the shed or garage with his favorite Electrolux. He was always finding ways to stay busy even when his KBid auctions, Scentsy flash sales, and Ebay adventures made Emma's eyes twitch.
Bob is preceded in death by his parents, Grace and Robert Hagensen.
He is survived by his adoring wife, Emma of 46 years; daughters Misty (Aaron) Shearer and Anna (Michael) Reynolds, and son Gary (Kayla) Hagensen; along with six wonderful grandchildren, Reece, Katey, Charlie, Mabel, Scarlet, and Adam; and one great-grandchild, Riverlynn. He is also survived by many other relatives and friends. Bob was a loving husband and amazing father, grandfather, and great-grandfather who will be dearly missed by all.
Visitation to celebrate his life and share in memories will be held at 12:00-1:00 pm at Bell Brothers Cremation Society of Minnesota, 4100 Grand Ave, Duluth, MN on Friday, June 17, 2022 with Funeral Services immediately following. He will be laid to rest at Forest Hill Cemetery.