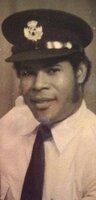 Francis Wilson
Francis Wilson
Age 73, of Shakopee, peacefully passed away surrounded by family on Wednesday, May 25, 2022, at 8:48 pm.
Francis was born in Arima, Trinidad & Tobago to parents, Kent Kingston & Cincino Wilson on October 4, 1948.
He came to the United States in August of 1976 with his wife and eldest daughter. They settled in Oklahoma and moved around to a few places before arriving in Minnesota.
He was a dedicated worker of 20 years at Michelin Tires as a tire technician trainer. He had a passion for bodybuilding, motorcycles, cars, horseback riding, gardening, completing handy tasks around the house, calypso, and country music, western, action movies, collecting comic books, and spending time with family.
Francis had always put family first and will be deeply missed. Survived by children, Karen (Jeremy), Roxann, Maryah (Ryan); grandchildren, Katrina, Elizabeth, Wendy Ann, Alanna, Stefano, & Kyson; Foster Brothers, Paul, Mark and Peter Dean Lee-Lum.
Preceded in death by this father, Kent Kingston; mother, Cincino Wilson; wife, Merle Wilson; and grandparents; Foster Parents, Wilfred and Patricia Lee-Lum.