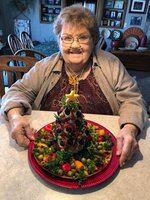 Janice Beverly Devick
Janice Beverly Devick, age 77, chose to go to heaven on Wednesday, June 8, 2022. She was a woman with many talents, from painting murals and pictures to painting on wine bottles and filling them with a famous dressing recipe and gifting them to many. She loved to create so many different and unique things. You could show her something and the next time you saw her she would have it created with her own twist. She was always sewing and crafting making hundreds of snowmen and recent years making lots of gnomes. She was a remarkable one-of-a-kind, fun, loving, grateful person.
She was born in Mountain Lake, MN on August 26, 1944 to Walter and Dorothy Moffitt. Lived on farm by Jackson, MN and then moved to Oconomowoc, WI and moved to Redwood Falls where she graduated high school. She then married Larry Panitzke and had four children Jodie, Roger, Curtis, and Adam. She then moved to Terrace and married Doug Devick and had Jessica.
She later moved to Moorhead and got a Degree at Moorhead State studying Multicultural and Native American Art where she made many lifelong friends and a grandma to college kids. She then moved back to Terrace and then to Glenwood where she resided until she died.
She is survived by her children Jodie (Barry) Braaten of Glenwood, Roger Panitzke (Michele Nolan) of Delano and Glenwood and Jessica Devick of Glenwood. Her granddaughters and great-grandchildren, Amy Braaten and her son River, Katie (Adam) Erickson and their sons Callan, Kadam, Brecken, and Izan, Heidi (Tucker) Holtberg and sons Skyler and Jace, Tori Braaten and her daughter Hayslee, her sister Alaire Soupir and her nieces and nephews and many people who called her Granny. She was proceeded in death by her infant son Adam Panitzke, her son Curtis Panitzke, her parents Walter and Dorothy Moffitt and her brother-in-law Chuck Soupir, and many other friends and family that she held near and dear to her heart that she talked about being reunited with in heaven.
A celebration of Jan's life will be held Friday, June 17, at 1:30 in Terrace at Chippewa Falls Lutheran church with a visitation 1 hour before and burial and lunch to follow.