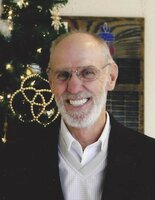 Donald E. "Don" Becker
Becker, Donald (Don) age 83 of Coon Rapids, MN. Born May 1939 in Saint Paul, MN. Passed away May 12th, 2022 at the age of 83 after a long battle with Parkinson's disease.

Preceded in death by son, Mark and parents, Tony and Verna.
Survived by wife, Sandy, sons, Tom and David, daughter Tracy, daughters-in-law Mary and Elizabeth, grand daughters Rhonda Broome, Jacqueline Spangler, Sophia, and Claire, great grandson Abel Spangler.

Graduated from Monroe High School in 1957 and did two years active duty in the US Navy. He enrolled at the University of MN when he returned to Minnesota where he met his wife-to-be, Sandy. They married in 1961 and were blessed with four children. Thomas, Mark, Tracy, and David. Sadly, Mark died of a cancerous brain tumor at the age of 5. They lived in St. Paul for 7 years and moved to Blaine in 1968. In 1985 they moved to Coon Rapids, where he lived the rest of his life. He was a devoted husband, father, grandfather, and great-grandfather.

He was employed at Consolidated Freightways for 31 years as a local driver. He retired at the age of 59. After retirement he and Sandy spent 20 years as winter Texans in Mission/McAllen. He was able to pursue his favorite sport, golf, in the winter. They joined the 1st Presbyterian Church in Mission TX where they sang in the choir and made many wonderful friends. He played golf at Bunker Hills Golf Club from 1975 until health problems in 2016 caused him to stop playing. He worked part-time summers at Bunker Hills as a grounds-keeper from 1998 until health problems forced him to give up the job in 2018.

His family will sorely miss his quirky sense of humor, his hugs, and his devotion.

A Celebration of Life service will be held on June 17th, 2022 at The First Memorial Funeral Chapel.
7835 Brooklyn Boulevard, Brooklyn Park, MN 55445. Visitation at 12 PM and Service at 1PM. Light refreshments to follow.
Memorials preferred to The Parkinson's Disease Foundation.