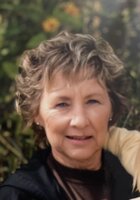 Janet Shirley
On May 19, 2022, Janet Shirley, passed away peacefully at the age of 76 at her home, after she put up a strong battle against cancer. Janet was born January 1, 1946 to Martin and Marcella Paschke of Faribault, MN. Janet married Jesse Shirley on November 5, 1965, where they had 4 children.
Janet was a spirited, thoughtful, caring woman with a lively personality that was always up for a new adventure, from shopping to traveling. She enjoyed every moment to the fullest. Janet was a woman with many talents. She enjoyed painting when she felt inspired. She loved to sew and create many things that she loved to give as gifts to family. She always was working on a project and was not afraid to take out her power tools to get the job done. She enjoyed cooking and baking. As an avid gardener, she took great pride in her flower garden and flowerpots, and they were the most beautiful in the neighborhood.
Janet loved most of all spending time with her children and grandchildren. She was always at her happiest surrounded by family.
Janet is survived by her husband, Jesse; her children, Mike, Mark (Krystal), Eric (Stacy), Jennifer (Dennis); her grandchildren, Rebecca (Alex), Brianna, Ava, and Alex.
Her family will have an intimate Celebration of Life gathering that will take place at a future date