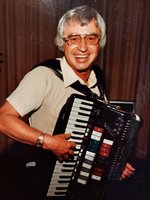 Frank T. "Jack" Jambor
Electrician, Musician, Sportsman
Frank passed away Feb. 13, 2022 at the age of 87. He was a resident of Lakeview Ecumen Commons in Maplewood.
Born in Moran township of Browerville, MN on Apr. 1, 1934. He grew up on the family farm, attended country school & worked on the farm until he joined the MN National Guard at age 17 and was called to active duty Jan. 16, 1951 as part of the 194th Tank BN., 47th Inf. Div. He was a tank operator and a med field tech. He was discharged Nov. 1952.
Frank married Rozan A. Taylor Jan. 2, 1954 and they made their home in St. Paul and had 4 children. Frank worked nights & attended Dunwoody Technical Vocational for his electrician classes. He started working as an Apprentice and finished his electrician courses at night school at St. Paul Area Vocational Technical School. Frank joined and was a 65-year member of the International Brotherhood of Electrical Workers Local 110 in St. Paul. He worked for a number of electrical contractors throughout his career until retiring at age 57.
Frank, or Jack, as most friends & family called him was primarily an accordion player but also played keyboards, guitar, banjo and string bass. He loved to play and sing to provide people an enjoyable atmosphere to dance or for their listening pleasure. Jack played for many weddings & anniversaries and was a regular performer at many bars, supper clubs, restaurants, senior living communities and even at parties or in a park. Jack was a hunter, fisherman and a great outdoorsman. He loved to take family on fishing and hunting trips. He also enjoyed teaching others about fishing when he was at the lake.
Jack is survived by his children Dan (Jan Anderson), Rick (Joanne), Dorreen (Bill) Birchen, Tom (Jane); many grandchildren, great grandchildren, cousins, nieces, nephews and special friend Eileen.
He is preceded in death by his wife Rozan; daughter-in-law Bernie; grandson David Curtis, parents Theodore & Mary Ann (nee Kensy); siblings Joseph, Valentine, Florence, Albert Mary, Elizabeth, Anton & Stanley.
In lieu of flowers, memorials preferred and will be directed to Parkinson's research and Samaritan's Purse for cataract eye correction for the underprivileged.