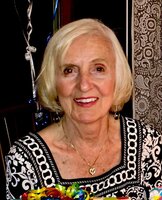 Ellen Stewart Nelson
Ellen Stewart Nelson passed away peacefully on May 4th, 2022 at the age of 81. She was surrounded by her loving daughters. Ellen was born in the small mountain town of Seefeld, Austria. She came to the US with her mother when she was 7 years old. Her mother married an American soldier after WWII and moved to Minnesota where they spent the remainder of their lives.
Ellen married her 1st husband, Glenn Stewart in 1962. They had 2 daughters, Lisa and Nicky. They lived in Edina and loved spending time at their cabin on Rooney Lake in Wisconsin. They entertained friends every weekend and we will always cherish those special memories at the lake!
A proud time of Ellen's life was when she managed their men's clothing store in the Galleria called DW Stewart's. It was a clothing store for Big and Tall men and Ellen was so tiny it was fun to see her style all these tall men to dress their best! She had an exceptional eye for fashion and loved every minute of making men look their finest!
In 2004 Ellen married Nate Nelson. They loved spending the winters in sunny Indian Wells CA, playing golf and tennis! Ellen was an exceptional cook and loved to entertain all the time.
Ellen loved to give back to the community and was involved in various charitable organizations over the years. She was very active for many years with The Edina Federated Women's Club, enjoyed all the activities and friendships formed along the way.
Ellen was diagnosed with mild dementia and in 2017 moved into assisted living at Chaska Heights Sr. Living. Her CHSL family, friends and staff all loved her and cherished her more than we ever thought possible! During the pandemic shut down in 2020 they were our life line to our mom! Last summer she moved into the Memory Care Unit. Sincere thanks and gratitude to everyone at CHSL for their love and care for our mom!
Ellen was always smiling, had the best attitude and positive outlook on everything in life! She will always be remembered for her strength and loving commitment to her children and grandchildren.
She was preceded in death by her mother, Frances Sjoberg and husband, Nathan Nelson. Survived by daughters Lisa Stewart Hokkanen & Nicky Stewart, grandchildren Nick & Erika Hokkanen, Iman & Damani Stewart, her Chaska Heights Sr. Living family and her beloved cat Alex.
A celebration of life will be held on Tuesday, May 17th at 12:30pm at the Lakewood Memorial Chapel. Visitation begins at Noon. Private interment to follow service. 3600 Hennepin Ave. Minneapolis MN 612-822-2171
Donations preferred to The Dementia Society of America.