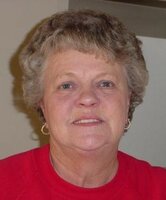 Norma Jean Matheson
Norma Jean Matheson (Dobrinz, Muntean) passed away peacefully on 4/25/22 at United Hospital in St. Paul at the age of 89. She was surrounded by her loved ones.
A celebration of Norma's life will take place from 11 am until 2 pm on Saturday, 5/21/22 at Norris Square, 6995 80th Street S, Cottage Grove, Minnesota 55016. There will be a Memorial service at 12 noon with a luncheon to follow.
Norma is preceded in death by her parents Lloyd and Irene Dobrinz, her siblings Eleen Ihrke, Donald Dobrinz, Betty Brobst, Joan Wedge, and Lois Plattner, and husbands Vasilie Muntean and Richard Matheson. She is survived by her children Patricia (David) DeMars, Michael (Rachel) Muntean, and Thomas (Deanna) Muntean, grandchildren Lisa (Jeff) Long, Amy (Dennie) Golla, Justin and Jacob DeMars, and Zachary and Ethan Muntean, step grandchild Candace Stott, great grandchild Ryan Long, and step great grandchild Jessica Stott.
Norma Jean Dobrinz was born on 9/3/32 in Elgin, Minnesota to Lloyd and Irene Dobrinz. She was the fourth of six children.
Norma attended school in Elgin, Minnesota until her senior year when she transferred to Rochester High School and graduated in 1950. After graduation she started her working career in a stationery store. It was there she met the love of her life, Vasilie Muntean, who was working at a Rochester radio station. Norma and Vasilie were married in 1951 and moved to South Saint Paul, Minnesota where they started their life together. Mom and Dad raised three children – Patricia, Michael, and Thomas. Mom was a devout wife and a loving and caring mother. She was always there for her family. Mom worked most of her life doing clerical and office work at various places. She last worked full-time at Macalester College. Vasilie passed away in 1970, leaving Mom a very young widow.
Mom continued to be strong and take care of her family. She reconnected with a former high school sweetheart, Richard Matheson from Rochester, who was still single. They fell in love again and were married in 1972. Mom and Dick moved several times during Dick's career with IBM, taking them from Minnesota to Georgia and finally to Tucson, Arizona, where they retired. Mom and Dick enjoyed many camping trips with the Pace Arrow motorhome group. They also bought a cabin on Blueberry Lake near Hayward, Wisconsin and spent several summers in the north woods. Unfortunately, Dick passed away in 1998 and left Mom a widow again.
Mom continued to be strong and lived her life in Tucson until 2011 when she moved back to Minnesota. She was a fabulous cook and enjoyed hosting holiday gatherings and dinner parties for family, friends, and neighbors. Mom was an avid golfer. She regularly played on two leagues in Tucson and looked forward to volunteering when the PGA tour tournaments were played in Tucson. In her spare time she enjoyed ceramic and yarn craft projects and she researched family geneology. She also enjoyed trips to the casino. She had the stamina to play on when others got tired and quit. She was a Lucky Lady most of the time and never gave up hope of seeing four aces and a kicker come up on the screen.
Mom will always live on in our hearts.