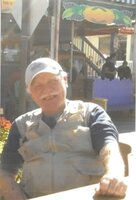 Henry "Clark" Robinson
Clark Robinson, born April 7,1939, died peacefully at United Hospital in St. Paul on May 6, 2022 at the age of 83.
Clark was a Navy veteran and 3M Cottage Grove retiree.
Clark was the son Henry and Lily Robinson. Clark was preceded in death by his parents, and siblings Eddie, Jeanie, and Paul.
Clark is survived by his children Barbara (Keith) Hankes, Lisa Olson, Jerome Robinson, David (Julie) Robinson, and Linda (Randy) Sundblad. Siblings, Marie (Wayne) Spidahl, Judy Ryan, Dorothy Robinson and sister-in-law, Mardell Robinson-Graak. Also survived by 7 granchildren and 3 great-grandchildren. Many cousins and nieces and nephews.