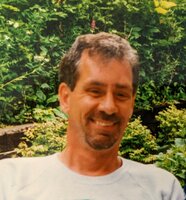 Robin "Bob" Goodson
Robin "Bob" P. Goodson, 73, formerly of Des Moines, IA, passed away April 14, 2022, at Viewcrest Health Center in Duluth, MN. He was preceded in death by his parents, Rev. Richard Sr. & Ruby Goodson, and his brother, Dick. He is survived by his son, Matthew (Melissa); grandchildren, Alexander (Emily), Ruby, and Maggie; great grandson, Luca; nephew, Rich (Beth); and sister in-law, Kerry.
Although Bob was born in Peoria, IL, his father's work with the American Baptist Church sent the family across the country including stops in Idaho, Indiana, and New Jersey. The family spent many summers in central Wisconsin at the Green Lake Conference Center/American Baptist Assembly.
After a year at Camden Military Academy in South Carolina, Bob trained as a seafarer in Brooklyn, NY. He spent a year at sea with the US Merchant Marine before joining the USMC. He served in Vietnam where he suffered a brain injury that placed him on the retired-permanently disabled list. Eventually, Bob settled in Des Moines to be close to his brother, Dick, with whom he shared a special bond. He was active in the DSM AA community for over 40 years and spent countless hours at meetings supporting others on their journey. Bob was proud of his military service and attended several reunions of the 3rd Marine Division.
Bob spent the last year of his life living in Duluth which allowed him to be closer to his son and grandchildren. Special thanks to the staff at Viewcrest as well as Essentia Hospice who provided him with dignified, compassionate care during his last days.
Bob was cremated and will be interred with military honors this summer at the Minnesota State Veterans Cemetery in Duluth. Memorials can be made to the Green Lake Conference Center.