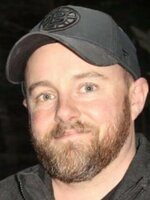 Brian Michael Hansen
Brian Michael Hansen (40), of Hawthorne, WI, passed away on Thursday, March 10, 2022, from complications due to Covid pneumonia.
Brian was born on July 31, 1981 to Michael and Gayla (Goettl) Hansen. He married Stacie (Hasforth) Hansen in August 2004 in Duluth, Minnesota. They have two beautiful children, Kensey and Carver.
Brian graduated from Superior Senior High School in 2000 and has a degree from Lake Superior College. He was an electrical designer for several engineering firms in the area, most recently Saginaw Power and Automation. Several years ago, he developed a love for fireworks while working for KG Fireworks with his friends.
Brian was a devoted husband and father, always putting his family first. He led them with his unwavering faith in God, which he shared with those around him. Brian was an active member of Mission Covenant Church in Poplar, Wisconsin. He was an avid hunter and fisherman and enjoyed sharing his passion for the outdoors with his children and others. He also loved hockey and cheering for the Boston Bruins. He cared immensely about his friends, and took pride in being prepared and providing for the needs of others. His beloved fireworks crew nicknamed him "Bring It Brian", because he never failed to have the most obscure item or tool that someone needed. Brian was loved by so many and impacted the lives of all who had the pleasure to know him.
Brian was preceded in death by his father Michael Hansen.
He is survived by his loving wife of 17 years, Stacie; children Kensey and Carver; mother, Gayla Hansen (Michael Molzahn); sister Alyssa (Joel) Nace; nephew Conner, and niece Julia. Grandfather James (Donna) Hansen. Parents in-law; Bruce and Colleen Hasforth, Sister in-law Brandi Hasforth and Grandmother Avis Hasforth. Many aunts, uncles and cousins.
A celebration of life will be held at Mission Covenant Church in Poplar WI on April 9, 2022. Visitation to begin at 10 a.m., with a service to follow at 11a.m. The family invites all to join them for a luncheon immediately following the service.
Arrangements are being handled by Mission Covenant Church.