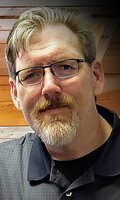 Jason "Jay" Charles Mausolf
Jason "Jay" Charles Mausolf
Jason "Jay" Charles Mausolf, 49 of the Twin Cities passed away peacefully on January 7, 2022, while surrounded by his loved ones.
He was born to Katherine James and Jeffrey Mausolf on December 28, 1972 and was a 1991 graduate of Duluth East. On October 2, 1999, he married Julie (Lyons) and they made their home together in the Twin Cities area.
Jay was a bright spot in this world and he will be missed by many. He was known for his kindness, sense of humor and easy-going nature. He loved to travel and enjoyed cruises and trips to Las Vegas. He was an animal lover and loved his puppies - Molly, Fiona and Ella.
Jay was proceeded in death by his parents, grandparents and other family members.
He is survived by his wife, Julie, sister Tammy Wilson (John Klopfer), nieces Sonja Traynor and Kelcie Wilson (Aaron) and his nephew Hunter (Kendra) Wilson, Great-nieces Evelyn and Ashtyn and his extended family.
A Celebration of life will be held in Duluth at a date to be determined.