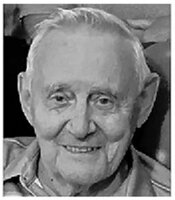 Darrell E Neuville Sr.
Born May 29, 1932, passed away November 21, 2021.
Preceded in death by parents, a silbing, a son-in-law, a daughter-in-law and 3 infant grandsons.
Survived by children, Leslie (Steve) Michell, Kim McFarland, Jill (Brian) Mellum, Darrell Jr. and Matthew; 8 grandchildren; and 7 great-grandchildren.
Visitation is Sunday, November 28th from 5-8pm at First Memorial Funeral Chapel, 4343 Nicollet Ave S, Minneapolis, MN (612-825-4567).
Mass of Christian Burial Monday, November 29th at 11am with visitation 1 hour prior at Chuch of Annunciation, 509 W 54th St, Minneapolis, MN.
Interment at Ressurection Cemetery, Mendoata Heights, MN.
In lieu of flowers, memorials preferred to American Cancer Society, MN or Church of Annunciation.