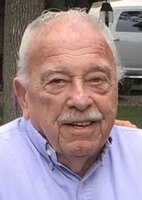 Robert D "Bob" Robbs
Bob Robbs
Robert D. "Bob" Robbs of Prior Lake, passed away peacefully, with his family and special friends at his bedside, on Sunday, November 21, 2021, at the age of 83.
Bob was born on July 27, 1938, in Minneapolis, to DeLoss and Ruth (Gamble) Robbs. He grew up in Minneapolis, along with this brother Steve. Bob served honorably in the Army from 1955 to 1961. Upon return from the army, he married Kathryn Carlson and they had four daughters. The family moved to Prior Lake in 1972. He became an active member of the Prior Lake Fire Department in 1975 and served with pride until retirement in 1992. He was also a retiree of the City of Minneapolis.
Throughout his life, Bob had a passion for old cars. He, along with the family, spent most weekends at local car shows. Throughout his time, he had been an active member of Kustom Kemps of Minnesota, MSRA, Goodguys Rod & Custom Association, and the Wanderers, amongst others. His love of classic cars continued as his health declined; his most recent purchase occurring early in November.
Bob is survived by his four daughters, Lynn Nelson, Lisa Pasvogel, Lori Friedrich and Leeann Busch, significant other Bonnie Teague, along with his former spouse and friend Kathy Robbs. He had 12 grandchildren: Michael, Cory, Trisha, Tyler, Tanner, Sarah, Scott, Derek, Matthew, Zachary, Ryan and Katelyn, along with 9 great-grandchildren.
He is preceded in death by his parents Ruth Robbs and DeLoss Robbs, stepmother Violet Robbs and brother Stephen Robbs.
A Celebration of Life will be held at the Cremation Society of Minnesota, Edina, on Friday, December 3, 2021. Visitation begins 11:00 AM with the celebration service at 1:00 PM.
Private family interment will be held, in the future, at Ft. Snelling.