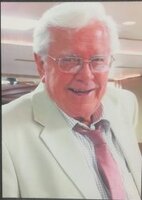 Fred H Claussen
IN REMEMBRANCE

Fred H Claussen passed away peacefully of natural causes on November 18, 2021 at Good Samaritan-Ambassador Nursing Home, New Hope, MN. Fred was 97 years old. "I never tried to get this old!" he often said. Fred enjoyed and loved his family above all else. Over the past six years, since moving back to Minnesota from retirement in Hot Springs Village, Arkansas, he was able to spend much quality time with his family, including his son Rick and wife Sue, and before his passing, his son Scott and daughter-in-law Mary Pommier-Claussen. He was able get together often with his grandchildren Andrew Claussen (Breanna), Kelly Hesemann (Andrew) and Christine Hamann (Jeromie). He also greatly enjoyed being with and seeing pictures of his 9 great grandchildren: Gabe, Teddy and Judah (Christine's), Hadley, Brice and Eoin (Andy's) and Ben, Beau and Corrie (Kelly's).
Fred was a proud Navy veteran of World War 2. He went around the world many times as a radio operator as part of a Navy gun crew on a Liberty Ship carrying oil and gasoline. He made many trips between Venezuela, India and Australia, going through the Panama Canal and the Suez Canal many times, where he could see the pyramids in the distance. As a radio operator, he received the distress call from a life-boat carrying 25 survivors of a torpedoed tanker that left port one week ahead of his ship. He was able to help guide his ship to the location of the survivors and help res-cue them. He often said that the 3 years in the Navy were some of the best years of his life. His one regret was: "I was so stupid, I went all around the world in the Navy and didn't even have a camera!"

Fred was born and raised in Chicago, where he was brought up in the family business, the Claussen Pickle Company. His father started him out peeling garlic cloves at age 12. He said that he didn't mind it too much, but then nobody wanted to sit next to him at the movies! He was a salesman for the company for many years and also worked in all aspects of the business. He was the last of his generation of family-owners of the Claussen Pickle Company.

Fred was preceded in death by his wife Pearl, son Scott, parents Fred J and Marie Claussen, and 3 siblings: Ronald (Lois), Edward and Lucille Grosse (Paul). He is sur-vived by nephew Steve Claussen (Nyla), Niece Linda Patterson (Lou), Niece Lisa Claussen, and sister in-law Lois (Claussen) Greiner, and other family and friends. A service at Fort Snelling National Cemetery is pending.