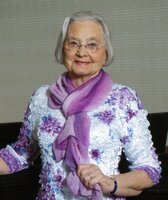 Betty Majorie Ockuly
Betty Marjorie (Brown) Ockuly graced this earth for 99 years. She was born in La Crosse, Wisconsin, and received her nursing degree in Rochester, Minnesota. Betty raised her family and lived the rest of her life in St. Paul and Falcon Heights, MN.
She is preceded in death by her husband Orville ("Oak" — 1908-1985), their daughter Margaret, and her brother, Ed, and sister, Beatrice.
Betty is survived by two of her sisters, Edyth Banks and Jan Schmeckpeper, and the following children and descendants:
John (Kathy), Tom (Lynda), Mary (Tim Rummelhoff)), Paul, Catherine (Mark Eagles), Jean, and Jim (Julia)
Betty has 15 grandchildren, 35 great grandchildren (with one more on the way), and one great great granddaughter.
In addition to being a nurse and the best mother, grandmother, great — and great great — grandmother, and friend to scores of people, Betty took up painting late in life, producing countless beautiful renderings of nature in watercolor, which now warm the homes of her offspring, relatives, and friends.
Among her many gifts to those who knew her were the legendary trips she took with her grandchildren to destinations in the U.S. and Europe.
She was the kindest person, who accepted everyone for who they are, and lives on in the hearts of so many.
Funeral services and a Catholic Mass will be held at Church of Corpus Christi in Roseville, MN on Tuesday, November 30. 10:00 gathering; 11:00 Mass; and a luncheon following. The service will also be live streamed by the church. See their website for details — www.churchofcorpuschristi.org
The family is directing any donations to St Jude Children's Research Hospital — www.stjude.org/donate — and the Church of Corpus Christi.
The family wishes to thank the staff of Allina Health Hospice Care.