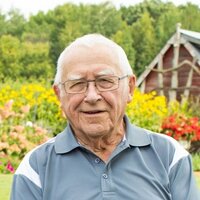 Robert J Feldhege
Robert J. Feldhege, "B-O-B," answered the angels call to heaven on Wed, Nov 17, 2021.

Mass of Christian Burial at 1 p.m. on Saturday, Nov 27 at Sts. Peter & Paul Catholic Church in Richmond, MN. Livestream available at www.christcatholic.com. (Click Sts. Peter & Paul for the stream.)

Visitation in the church gathering space from 11 a.m. to 12:45 p.m.

Bob was born Jan. 20, 1929, and was lovingly adopted ("hand-picked" as he fondly said) by Herman and Elizabeth (Torborg) Feldhege. He married Donna Mae Ahmann on Wednesday, May 23, 1951. Their 70 years of marriage were blessed with 8 children, 15 grandchildren, and 12 great grandchildren.

A man of many virtues, Bob's priorities were always in check: God, Family, Country. Receiving the Eucharist was essential, and annual retreats to Demontreville honed his spirituality. He raised his voice in song for more than 60 years as a church choir member, and belonged to the Crosier Apostolate.

Donna was his forever sweetheart and traveled with him to places far and near. Home was the sweetest of all, made even more special whenever family was gathered around. Many traditions were born here, including Christmas Night caroling, and card games where the "committee" constantly changed the rules.

Bob served his Country and gained life-long army buddy friends. He was a 25-year volunteer fireman, some as fire chief. He was a volunteer driver at Tri-Cap and Meals-on-Wheels. Bob was also one of the founders of the RichSpring Golf Club.

Bob was employed by Mobil Oil for 30+ years. He also built and operated a Mobil gas station in Richmond. He was quick to make friends and a charmer wherever he went! His cousins and relatives were some of his very best friends.

Bob is survived by his wife, Donna; children Patty (Rich Carruth), Ron (Adva), Gary (Ze), Mike, Janet (Jeff Stang), John (Mitsuyo), Cathy (Jay McKenzie), and Fred (Carmelita); 15 grandchildren, and 12 great-grandchildren.

He was preceded in death by his parents; biological mother, Marie Reinert; his sister Joyce Marie East and brother-in-law Gordon East; brothers and sisters-in-law: Paul Ahmann, Leona Dietman, Peter Ahmann, John & Elaine Ahmann, Elmer & Marlys Ahmann, and Betty Ahmann.

Memorials are preferred to Minnesota Citizens Concerned for Life (MCCL) or to Assumption Court.

A luncheon will be served following the Mass with a card party to follow.

Arrangements are being made by the family.