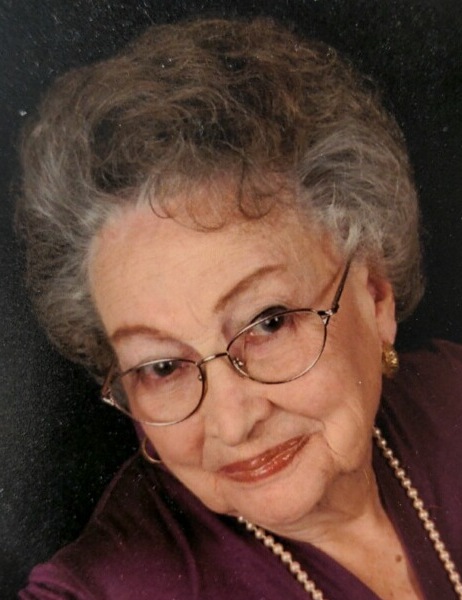 Lola Eleanor Sletten
Sletten, Lola Eleanor (née Russ) was born on January 26, 1919 to Jai and Gladys (Leathers) Russ. She died peacefully on October 14, 2021 at the age of 102.
She is survived by her 6 "great" children, Rolf (Cindy) Sletten of Canton, MI, Susan Meyer, Richard (Barbara Eytinge) Sletten, Ellen (Robert) Beck, Ruth Erdahl, all of the Minneapolis area, and Steven (Mary Beth Lee) Sletten of Austin, TX, grandchildren Michael Sletten, Karin Sletten (Ayad) Farjo, Jennifer (Brian) Klein, Krista Erdahl, Annelise (Josiah Schwab) Beck, Emeline Beck and Spencer Sletten, great-grandchildren Zayd Farjo, Kai Farjo, Brielle Klein and Jaimeson Klein, nephews John "JB" Beattie and Judd Beattie and many cousins and friends. She is preceded in death by her parents, sister Jean Beattie, brother-in-law John "Jack" Beattie, nephew Jai Bruce Beattie and daughter-in-law Diane Sletten.
In her early childhood, she lived on a farm in Crystal; the house built in 1894 is still there. She graduated from Marshall High School in Minneapolis and attended the U of Minnesota. The family lived in the Philippines for a few memorable years. Lola loved to travel, camp, garden, watch birds, visit Como Conservatory, parks museums (the Bell Museum was a favorite), and socialize. She was an active 58-year member of Union Congregational Church of St. Louis Park, a volunteer for 25 years at Minnesota Landscape Arboretum, a volunteer at the Armed Forces Service Center at MSP Airport, and active for years at Lenox Community Center (Senior programs), the Bonsai Society and the Minneapolis Audubon Society.
A memorial service will be on Saturday, November 13 at 1:00 P.M., followed by a short social gathering, at Union Congregational Church, 3700 Alabama Av. S., St. Louis Park. Private interment at Brooklyn-Crystal Cemetery.
In lieu of flowers, memorials are preferred to the Audubon Chapter of Minneapolis or the St. Louis Park Emergency Program (STEP).